The South
Much of this part of the island is agricultural, given over to sheep stations and vineyards – here is where you'll find the famed Hawke's Bay and Martinborough wine regions, as well as New Zealand's charming capital city, Wellington.
topHawke's Bay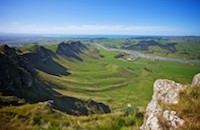 With its sunny summers and cool winters, this region has an ideal climate for growing fruit, and has become a very well established wine-growing region. Numerous microclimates give Hawke's Bay the ability to produce top examples of almost every wine style made in New Zealand. At the coast is fishhook-shaped Cape Kidnappers, famous for its gannet colony, the largest mainland colony in the world.
topAccommodations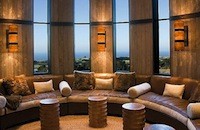 Surrounded by 6,000 acres of pastureland and overlooking the Pacific Ocean, this five-star luxury lodge was built to resemble a cluster of ranch buildings. 24 stylish, spacious cottage suites (some with panoramic views), plus a luxurious four bedroom Owner's Cottage. A variety of onsite and area activities are available, from a safari to the nearby Gannet colony, to hot air balloon rides and wine tours, to fly fishing and kayaking.
topWellington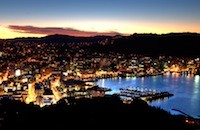 New Zealand's capital Wellington is a picturesque city surrounded by hills at the south end of the North Island. Engaging and cosmopolitan, it has emerged in recent decades as the nation's cultural center, with wonderful cafes and art galleries, a vibrant nightlife, and a calendar filled with art and music festivals year-round (but especially in summer).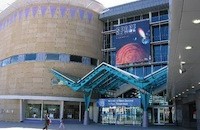 55 Cable Street,
Wellington
Tel: +64 (0)4 381 7000
Open daily, 10am-6pm (to 9pm Thu)
One of the world's largest and most remarkable museums, Te Papa tells the story of New Zealand's diverse cultures. Uniting the former National Museum and National Gallery, its collection spans five areas: Art, History, Pacific, Māori, and Natural Environment. Interactive, state of the art exhibits are geared towards adults and children alike.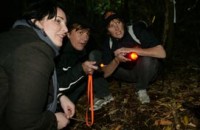 End of Waiapu Road, Karori, Wellington
Tel: +64 (0)4 920 9200
Open daily 10am-5pm. Closed Dec 25.
Just 10 minutes from central Wellington, this eco-sanctuary and education center is home to some of New Zealand's rarest and most extraordinary wildlife, roaming free within the protected sanctuary valley. Join a free ranger walk, go for a boat ride on the lake, or take the fascinating "Zealandia by Night" tour.
topKaitoke Regional Park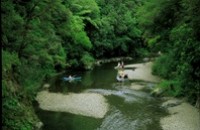 Located 50 minutes north of Wellington, this park contains 2860 hectares of original lowland rainforest, filled with ancient trees, babbling streams, and rare birds. Portions of the park and the Hutt River were used as the fliming location of Rivendell, the elf kingdom in The Lord of the Rings. The sets and buildings were computer generated, but not the glades and river gorges.
topThe Wairarapa
Stretching across the southeastern portion of the island, most of the Wairarapa is classic, rolling New Zealand sheep country. But amid the bucolic landscapes are charming towns, fashionable hotels and wineries – the picturesque town of Martinborough is the wine capital of the region. Cape Palliser, at the island's southernmost tip where the Tasman Sea meets the Pacific, offers dramatic, windswept coastal scenery and is home to a 100-year-old, candy-striped lighthouse and a large colony of fur seals.
topAccommodations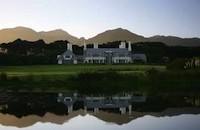 This luxury lodge on the North Islands rugged southeastern coast is located on a 5,000 acre sheep farm. 12 sumptuously furnished cottages, superb ocean views, onsite spa treatments, an excellent restaurant with an award-winning wine list, and numerous opportunities for recreation make this an ideal retreat for families and couples alike.
Copyright 2013 MyLittleSwans, LLC. All rights reserved. My Little Swans, the logo and Share a world of experience are registered Trademarks of MyLittleSwans, LLC. Use of this site constitutes acceptance of our Terms of Use and Privacy Policy.