Southern Alps & Glacial Lakes
The Southern Alps offer some of the most breathtakingly scenic landscapes in all of New Zealand, with peaks that reach heights of 12,316 feet and valleys that sparkle with jewel-toned alpine lakes. If you're following the coast route from Christchurch south, go as far as the town of Timaru, a former whaling station that was once an important safe harbor for Maori canoes. Here, you'll head inward to visit Lake Tekapo, Lake Pukaki, and Mt. Cook. You might stop en route at one of the roadside stands, where local women sell exquisite hand made sweaters.
topLake Tekapo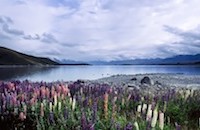 Exceptional for its clarity and majestic setting, this lake gets its remarkable turquoise hue from finely ground rock particles brought down by glaciers. You can spend all day just gazing at it and basking in the atmosphere. The colors are simply stunning, especially when the lupines are in bloom.
topLake Pukaki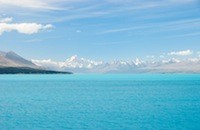 Another spectacular, milky blue Alpine lake. On a clear day, you can see Mount Cook reflected in its waters.
topAoraki/Mt. Cook National Park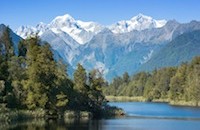 Mt. Cook is New Zealand's highest mountain, reaching 12,316 feet. It is named for the famous sea captain James Cook, and is also known by its Maori name, Aoraki. According to legend, Aoraki and his three brothers came down from heaven to visit the Earth Mother in a canoe – when the canoe overturned, the wind froze the boys and turned them to stone, forming the sacred mountain and its surrounding peaks.
The park surrounding the mountain covers 270 square miles, contains 19 peaks, and is 40% covered by glaciers. Activities include hiking, mountaineering, skiing and scenic flights. A number of short day hikes are available as well as three alpine tramping tracks.
topAccommodations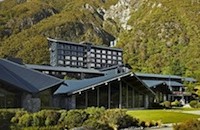 At the foot of Mt. Cook, this famed hotel has offered luxurious alpine accommodations for over 120 years. First-class facilities, stunning views.
Copyright 2013 MyLittleSwans, LLC. All rights reserved. My Little Swans, the logo and Share a world of experience are registered Trademarks of MyLittleSwans, LLC. Use of this site constitutes acceptance of our Terms of Use and Privacy Policy.