Central Otago
With tall peaks and tussock-covered hills giving way to fertile plains, this region offers stunning landscapes and a huge variety of activities. Queenstown, dramatically set on the shores of Lake Wakatipu and backed by the Remarkables mountain range, is the district's hub, known for year-round outdoor adventures as well as fine hotels and restaurants. Scenic Lake Wanaka is another popular holiday spot, while Mt. Aspiring National Park is famous for its birdlife and excellent hiking. On the coast, you'll find the towns of Oamaru, which features well-preserved historic buildings and colonies of rare penguins, and Dunedin, which has strong ties to Edinburgh and a distinctive Scottish flavor.
topQueenstown
Queenstown, as everyone who travels to New Zealand knows, is where you go to throw yourself off the edge of a mountain or bridge or out of an airplane. Known as New Zealand's Adventure Capital, it is the "Eco-Exhilaration" capital of the world. If you are looking for an adrenalin rush, a 100% pure South Island high country experience, Queenstown is full-on.
The scenery is idyllic, a demanding landscape of overpowering beauty. It has a rugged feel with snow-crested mountains and plunging river canyons. This region has New Zealand's highest concentration of The Lord of the Rings locations – for example, the Remarkables range, rising sheer and steep, is transformed into the seat of evil Sauron. Local tours will guide you through the fascinating locations of Middle Earth.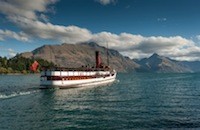 One can better experience the scale of the mountains from the lakes below. If you have a spare 90 minutes, the iconic and very cool steamship TSS Earnslaw is one of the best ways to see the splendors of the lake. Queenstown also has some of the best tracks for tramping, and is fast becoming a go-to biking destination.
topActivities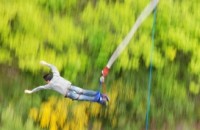 Bungy and Other Aerial Sports
The latest technology pushes the envelope. Forget fear of flying: you don't just bungee jump anymore, you Ledge Bungy, which, as the name implies, requires you to step off a ledge and free-fall – twisting, flipping or diving – for 8.5 adrenaline-pumped seconds. Or, you can choose to swing, at mind-blowing speeds, on a 1,000-foot arc through the Nevis Canyon. There is parachuting, paragliding, hang-gliding, skydiving, not to mention zip-lining at 44 miles per hour through a forest tunnel with amazing views of the length and breadth of Lake Wakatipu.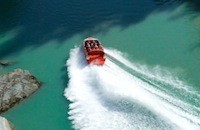 Water Activities
If you've been there, done that, try kayaking, canoeing, or jet-boating (the latter was invented in New Zealand). The sleek Shotover Jet is the only company permitted to operate in the Shotover River Canyons. The boats dispense with propellers, giving greater access to otherwise non-navigable rivers, into what would normally be impenetrable bush. Some naysayers consider it too wilderness-intrusive; not "Eco" enough.
Cycling
For those cyclist still seeking alpine thrills you can experience pedaling down 1,640-vertical-feet terrain from Gondola Hill (without ever having to pedal uphill) or the tamer, yet still challenging, 62-mile Queenstown trail.
topAccommodations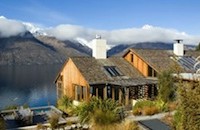 Located just outside Queenstown overlooking the lake, these contemporary alpine suites offer breathtaking views and seclusion.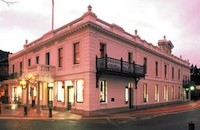 This exclusive lakefront hotel is housed in a fully refurbished, 140-year-old historic building. Five generously proportioned suites, exceptional service.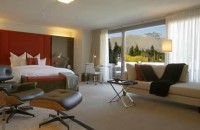 Award-winning, five-star boutique hotel with ten stylish guest rooms, located in the heart of vibrant Queenstown.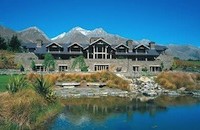 A grand, internationally renowned alpine lodge set on serene Lake Wakatipu. Five intimate Lodge Rooms, 3 generous Lodge Suites in the main lodge and four superb Chalet Suites.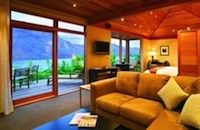 Nine free-standing villas nestled high above Lake Wakatipu, boasting uninterrupted views of Queenstown, The Remarkables, and the lake. Each villa features its own private deck, lounge and fireplace.
topRestaurants and Bars
10 Lake Hayes Road, RD1, Queenstown
Tel: +64 (0)3 442 0556
French Basque restaurant in the region's premier winery. Fabulous setting looking out onto Coronet Peak. Order the degustation menu "Trust the Chef." The five-course menu could include pork belly with watercress and quince puree paired with the vineyard's top Pinot Noir. Go for lunch to enjoy the view. Closes early (8pm).
17 Marine Parade, Queenstown
Tel: +64 (0)3 442 6994
Located in Queenstown's historic area. Known for locally sourced food and cozy log fires.
88 Beach St Steamer Wharf, Queenstown
Tel: +64 (0)3 442 6050
Sub-zero experience – definitely cool. Coats and gloves provided.
43 Ballart Street, Queenstown
Tel: +64 (0)3 442-9393
The new flagship restaurant of Michelin-star chef Josh Emett. Stylish – a great showcase for NZ contemporary cuisine.
topThe Gibbston Valley
The area between Queenstown and Cromwell now houses vineyards instead of the once-grazing sheep. One of the world's most southerly wine-growing regions, it's especially known for Pinot Noirs. The best local producers are Peregrine Wines, Amisfield Wine Company and Olssens winery. Peregrine has won awards for both its dramatic architecture and fine artisanal wines. The winery is designed to look like a falcon's wing in flight, and is nobly committed to the conservation of New Zealand's endangered native bird.
topLake Wanaka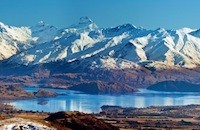 With a gorgeous lakeside setting surrounded by snowy peaks, Wanaka resembles Queenstown but is much quieter and more laid back. Boating, fishing, waterskiing are popular in summer, and skiing and snowboarding in winter. Other attractions include the New Zealand Fighter Pilots Museum, which features a variety of WWII aircraft, the eclectic National Transport and Toy Museum, with toys and vehicles of all descriptions, and Stuart Landsborough's Puzzling World, offering a 1-mile maze, a Hologram Hall and other optical wonders.
topMount Aspiring National Park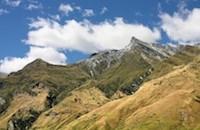 Centered around 9,950-foot Mount Aspiring (New Zealand's highest peak outside Aoraki/Mount Cook National Park), this is one of the country's largest parks. The landscape includes glaciers, river flats, alpine lakes and thick forests, sheltering some 59 species of birds and offering marvelous opportunities for camping, climbing, day hikes and longer tramps.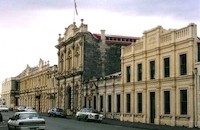 This charming town features New Zealand's finest and best-preserved collection of historic buildings, many built from the distinctive, cream-colored local stone known as "whitestone." In the center of town, Thames Street contains the city's most impressive civic buildings, while the Tyne-Harbor Street Historic District is the old commercial quarter, now filled with shops and galleries. Near the manicured Omaru Gardens is the Janet Frame house, the childhood home of one of New Zealand's greatest writer.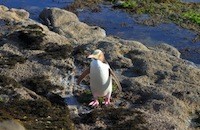 Penguin Colonies
A unique feature of Oamaru is its penguins – there are colonies of both yellow-eyed and blue penguins within walking distance of the center. The blue penguins nest along Waterfront Road and are best viewed at dusk. The yellow-eyed penguins congregate around Bushy Beach, and can be seen from a hide which keeps visitors out of the penguins' sight.
topDunedin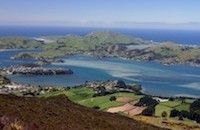 If you want to get away from the world for a while, go to Dunedin. It is a small, hilly city of 100,000 people or so, with plenty of fresh air, green hills and breathtaking views of the harbor and the Otago peninsula. Its historic stone buildings are Victorian, definitely Scottish in feel. Dunedin is Gaelic, the ancient name of Edinburgh, and Dunedin has its own version of Moray Place and George Street, and even a statue of the much-loved poet Robert Burns. You will see kilts, hear bagpipes, and in winter you can dine on haggis.
If you are keen to do some native dancing there is a sprung floor in the small but delightful local Larnach Castle. All rather like inhabiting an Alexander McCall Smith novel.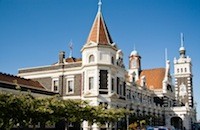 Dunedin Railway Station
This exquisite and well-preserved Renaissance-style building is one of New Zealand's finest historic buildings, covered in rich details like the ornate exterior stonework trim and the mosaic floor made up of more than 725,000 Royal Doulton porcelain tiles.
419 Great King Street, Dunedin
Tel: +64 (0)3 474 7474
Open daily 10am-5pm. Closed Dec 25.
Dedicated to the natural and human history of the region, this fascinating museum includes one of New Zealand's best maritime displays, an authentic, Victorian-inspired "Animal Attic" filled with animal skeletons and stuffed specimens, a Tropical Forest with 1,000 live butterflies, and the "Southern Land, Southern People" exhibit, which explores the unique, diverse character of the South Island.
topAccommodations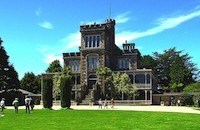 The grounds of the castle feature three types of accommodations: Camp Estate, with five spacious, luxurious bedrooms; the four-star Larnach Lodge with 12 themed rooms; and the Stable Stay, six small but comfortable rooms within the historic former stables.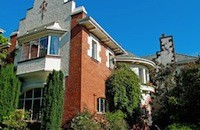 Located in a house built by a wealthy industrialist in the early 1900\\\'s, this small boutique hotel is a few minutes' walk from the city center. The complex includes four rooms at the lodge, and four in their two apartments.
Copyright 2013 MyLittleSwans, LLC. All rights reserved. My Little Swans, the logo and Share a world of experience are registered Trademarks of MyLittleSwans, LLC. Use of this site constitutes acceptance of our Terms of Use and Privacy Policy.