Destination:
Paris and Day Trips
Day Trips
topChantilly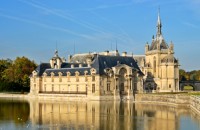 Chantilly 60631
+33 (0)3 44 27 31 80
Château: Apr-Oct Wed-Mon 10am–6pm; Nov-Mar Wed-Mon 10:30am-5pm
Grounds: Apr-Oct Wed-Mon 10am–8pm (last entry 6pm); Nov-Mar Wed-Mon 10:30am–6pm
Living Horse Museum: Apr-Oct Mon-Fri 10:30am-6:30pm; Sat-Sun & public holidays 10:30am-7pm;
Nov-Mar Mon-Fri 1-5pm; Sat-Sun & public holidays 10:30am-5:30pm;
Closed Tuesdays
Located an hour north of Paris, Chantilly is the horseracing capital of France, but most visitors come to see the picturesque Château de Chantilly, former home of the princes of Conde. The lakes and gardens are gorgeous, and the Conde Museum and Living Horse Museum are well worth a visit. Children will love touring the Château grounds on the Petit Train, or rowing boats on the Grand Canal.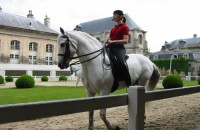 Living Horse Museum
Housed in what are arguably the world's most beautiful stables, this exceptional museum introduces visitors to equestrian art and culture. Dressage demonstrations are performed three times daily.

Conde Museum
This is the largest museum of historic paintings in France after the Louvre, with works by great masters such as Delacroix, Van Eyck, and Raphael, as well as furniture commissioned by Marie Antoinette and Louis XVI.

Getting there:
By car: A1 N from Paris. Exit at Chantilly. Follow RN 16.
By train: RER Line D from Châtelet les Halles.
topFontainebleau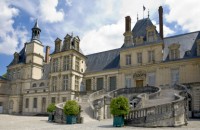 Place du Général-de-Gaulle, Fontainebleau 77300
+33 (0)1 60 71 50 70
contact.chateau-de-fontainebleau@culture.fr

Château: Oct-May Wed-Mon 9:30am–5pm; Jun-Sept 9:30am–6pm
Closed Tue
Closed Jan 1, May 1, Dec 25

Gardens: Daily Nov-Feb 9am–5pm; Mar, Apr, Oct 9am–6pm; May-Sept 9am–7pm

A UNESCO World Heritage Site, Fontainebleau lies about 37 miles south of Paris. This magnificent castle was a residence for sovereigns for 800 years. In the 16th century, the château was decorated in an elaborate mannerist style which came to be called the Fontainebleau school. Visitors can view the lavish apartments, ballroom, chapel and museums, and tour the gardens and parks.
Getting there:
By car: A6 S from Paris.
By train: The French railway sells a combined train/bus/chateau ticket departing from the Gare de Lyon.
topVersailles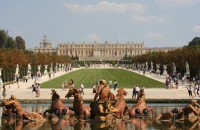 Place d'Armes, Versailles
+33 (0)1 30 83 78 00

Château:
Low season 9am-5:30pm; high season 9am-6:30pm
Closed Mon and some public holidays

Marie-Antoinette's Estate and the Grand Trianon:
Low season 12-5:30pm daily; high season 12-6:30pm daily
Closed some public holidays

Gardens: Daily 8am-6pm (until 10:30pm in summer)
Closed some public holidays

Versailles is located about 13 miles southwest of Paris. This was the royal residence of the Sun King, Louis XIV, who built it from a modest hunting lodge into one of the largest palaces in Europe. The château is duly famous for its elaborate formal gardens, sumptuously decorated interiors, and charming outbuildings. However, it can get very crowded and somewhat overwhelming (we actually preferred Chantilly). We suggest packing a lunch and picnicking on the grounds first, then going through the palace later to avoid the crowds.
Getting there:
By car: A13 Motorway from Pairs towards Rouen, exit at Versailles-Château.
By train: The French railway sells a combined train/château pass called Forfait Loisirs Château de Versailles departing from many Paris stations.
topGiverny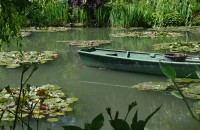 84 Rue Claude-Monet Parc Gasny, Giverny 27620
+33 (0)2 32 51 28 21
contact@fondation-monet.com
Apr–Oct Tue-Sun 9:30am–6pm
Closed Mon

The village of Giverny is located about 47 miles NW of Paris in the town of Vernon. Monet, founder of the Impressionist school of painting, lived in Giverny for 43 years. The beautiful gardens surrounding his home were the inspiration for some of his most famous works, such as his Water Lily series.
Getting there:
By car: A13 from Paris towards Rouen, exit 14 at Bonnières or exit 16 Douains. Follow signs to Vernon or Giverny.
By train: Trains to Vernon leave from Gare Saint-Lazare in Paris. The fastest trains make the trip in 45 minutes.
Copyright 2013 MyLittleSwans, LLC. All rights reserved. My Little Swans, the logo and Share a world of experience are registered Trademarks of MyLittleSwans, LLC. Use of this site constitutes acceptance of our Terms of Use and Privacy Policy.