Arles
In cities like Orange, the ancient remains stand alone, separate from the city. Not so in Arles, where historic structures like the Roman Arena and the Theater have been incorporated into the urban planning and development, giving the city a distinctly old-world feel, even by Gallic standards. The Roman Ampitheatre is the city's premier tourist attraction, built to showcase chariot races and hand-to-hand combat, the 25,000-capacity venue now stages concerts, plays and even bullfights.
topHighlights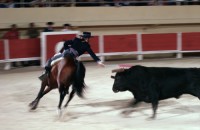 Les Arènes Roman Amphitheatre
Rond Point des Arènes
+33 04 90 49 36 86

Spectacular Roman amphitheatre worth visiting even if you don't attend an event. But why not go for the full experience? If traditional bullfights are too violent a sport for you and yours, go see bullfights Provençal-style or La Course Camarguaise. The objective of this bloodless spectacle (for the bulls) is to snatch a rosette from the head of a young bull using a claw-shaped metal instrument.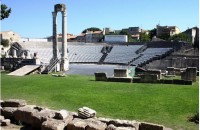 Théâtre Antique
Rue de la Calade
+39 04 90 49 36 74
May-Sep daily 9am-12pm, 2-7pm; Oct, daily 9am-12pm, 2-6pm;
Nov-Dec daily 10am-12pm, 2-5pm; Mar-Apr, 9am-12pm, 2-5pm.

The ruins of this 1st century theatre have been integrated into a parklike retreat with 2000-tiered seat venue that hosts the Festival d'Arles (in July and August) and the Recontres Internationales de la Photographie (Photography Festival).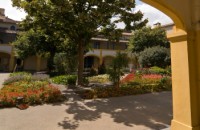 Espace Van Gogh
Place Felix Rey
+39 04 493 39 39

Formerly the hospital where Van Gogh spent time during his periods of depression and painted some of his most famous works, now a cultural center with one wing is dedicated to Van Gogh. Also showcases permanent and temporary art exhibits.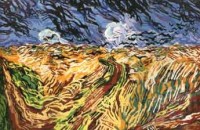 Foundation Van Gogh
24bis Rond-point Arènes
+39 04 49 94 04
Daily 9am-7pm June-Sept; Oct-May Tue-Sun 9am-12pm, 2-6:30pm

Arles has none of Van Gogh's works, but the Foundation exhibits works by contemporary artists inspired by Van Gogh. It may inspire your budding artists.
topRestaurants
La Chassagnette
Domaine de L'Armellier, Route du Sambuc
+33 04 90 97 26 96
Open Mon-Tue, Thu-Sun 11:30am-3pm, 7pm-10:30pm
Closed Wed
Chef Jean-Luc Rabanel uses organic produce grown from his own gardens. The specialty is slated baked fish and red rice.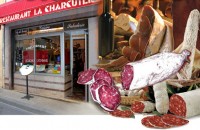 Copyright 2013 MyLittleSwans, LLC. All rights reserved. My Little Swans, the logo and Share a world of experience are registered Trademarks of MyLittleSwans, LLC. Use of this site constitutes acceptance of our Terms of Use and Privacy Policy.