Avignon
From 1309 until 1417, this fortified palace was home to nine successive popes and a great deal of historical intrigue and mayhem. Wander through the tapestry-hung rooms, marvel at the frescoes, climb up the wall towers, and soak up the spirits of residents past. Once you've had enough, spend some time strolling the beautiful streets of Avignon to see why it's called the cultural capital of Provence.
topHighlights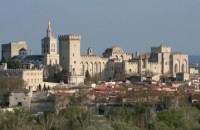 +33 04 90 27 50 00
Open Mar 1-14 9am-6:30pm, Mar 15-Jun 30 9am-7pm, Jul 1-31 9am-8pm, Aug 1-31 9am-9pm, Sep 1-15 9am-8pm, Sep 16-Nov 1 9am-7pm,
Nov 2-Feb 28 9:30am-5:45pm
topRestaurants

Art et Gourmet
Traditional Provencal dishes
4, Place de la Principale
+33 04 90 86 81 87
Open Mon-Sat 11:30am-3pm, 7:30pm-11:30pm
Closed Sun
Great atmosphere, art and food.

83, rue Vernet
+33 04 90 85 99 04
Closed Sun-Mon
Three Michelin stars

Numero 75
75, Rue Guillaume Puy
+33 04 90 27 16 00
Open for lunch and dinner.
Closed Sun
Copyright 2013 MyLittleSwans, LLC. All rights reserved. My Little Swans, the logo and Share a world of experience are registered Trademarks of MyLittleSwans, LLC. Use of this site constitutes acceptance of our Terms of Use and Privacy Policy.