Camargue
The Camargue delta is famous for its white horses, black long-horned bulls, flamingoes and unique flora and fauna. Part of its 200,000 acres is filled with rice fields, salt marches, cattle ranches and stud farms, while the other part is a national park and wildlife reserve. The Camargue is 9 miles south of Arles on D570.
topHighlights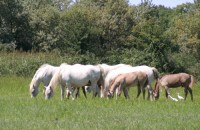 Watching the native horses roam free is the biggest draw. Said to be descendents of pre-historic horses, the foals are born black or brown and turn white between the age of four and seven.
You can also watch the gardians (cowboys) on horseback herding the long-horned bulls. The liveliest of the bulls star in the Course Camarguaise. Some are also raised for the bullfights in Spain and Southern France.
The Camargue is also a bird watcher's paradise. While the marshes are home to thousands of flamingoes, over 500 species of birds migrate to the Camargue each year.
Parc Naturel Règional de Camargue covers 820 square km (about 317 square mi) of some of the wildest and most protected wilderness in all of Europe.
Saintes-Maries-de-la-Mer is a seafront town that lies at the western end of the Camargue. Main attractions are its beachfront, bullring, and festivals in May and October. There are also many places to ride white horses, take a jeep safari or rent bikes in town.
topRestaurants
La Chassagnette
La Chassagnette
Route Du Sambuc
+33 04 90 97 26 96
Chef Jean-Luc Rabanel
They serve organic produce picked from their beautiful gardens. Specialty is salted baked fish, red rice.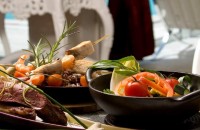 Route Du Petit Rhône, Les Saintes-Maries De La Mar 13460
+33 04 90 97 81 02
Located in park, 5 hectares, with a pond on edge of natural reserve
Don't forget mosquito repellent. Mosquitos are particularly fierce from March through October, so come prepared.
Copyright 2013 MyLittleSwans, LLC. All rights reserved. My Little Swans, the logo and Share a world of experience are registered Trademarks of MyLittleSwans, LLC. Use of this site constitutes acceptance of our Terms of Use and Privacy Policy.