Gordes
The approach to Gordes is striking. The village sits on a steep promontory and it is crowned by a Renaissance castle. It is touristy, trendy, with fine boutiques, galleries and restaurants. And the nearby Villlage of Bories and Abbaye de Sénanques are not to be missed.
topHighlights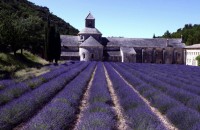 Open only for tours in French
Mon-Sat 10am-12pm, 1:30-6pm; Sun2-6pm
+33 04 90 72 05 72
2 1/2 mi north of Gordes on D15/D177
This 12th-century working abbey sits in isolation surrounded by lavender fields. Cistercian monks produce honey, liqueurs and lavender essence. Try to visit in late June or July, when the lavender fields are in full bloom. The sight will take your breath away. Even if you don't want to visit the abbey, the fields are well worth the trip. Don't forget to bring your camera.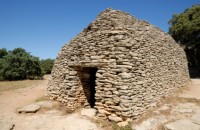 Village of Bories
Daily 9am-sunset

Boires are beehive-shaped stone huts built by peasants to live in while tending their flocks. It's believed that Neolithic man lived in huts like these and they were copied over the years. This cluster of boiries was part of a village that was inhabited between 1600 and 1800.
topRestaurants

Le Bouquet de Basilic
Rte. de Murs, Gordes
+33 04 90 72 06 98
Copyright 2013 MyLittleSwans, LLC. All rights reserved. My Little Swans, the logo and Share a world of experience are registered Trademarks of MyLittleSwans, LLC. Use of this site constitutes acceptance of our Terms of Use and Privacy Policy.