Destination:
Amalfi Coast
Capri
Despite a history of decadence from emperor Tiberius to the jet-setters of the 1950's, Capri's real allure is its rare scenic beauty and sparkling waters.
topSights and Activities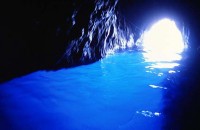 Blue Grotto (Grotta Azzurra)
This is the must-see attraction on Capri, where visitors take a boat ride through a natural cavern filled with intense blue light.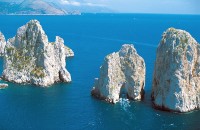 Faraglioni
These three massive rocks jutting out of the sea are another popular boating destination. The Faraglione di Mezzo (the second of the three) is famous for the natural tunnel through its center.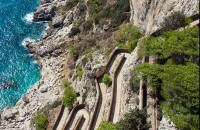 Via Krupp
The Via Krupp, a switchback path carved into the cliff face, offers spectacular views of the Faraglioni.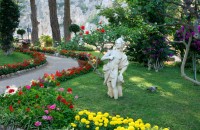 Gardiano di Augusto
Perched at the top of the Via Krupp, these gardens are a fine example of Caprese botanic ornamentation, which uses local flora as picture frames for scenic vistas.
topMuseums
Viale Axel Munthe, Capri
+39 (081) 837 1401

This villa was the home of Swedish physician and writer Axel Munthe, and is filled with classical artifacts he collected througout his life. Located at the end of a characteristic shopping street, it offers breathtaking cliff-edge views over Capri.
topRestaurants
Via Faraglioni 2, Localita Faraglioni, Capri
+39 (081) 837 0845
fontelina@capri.it
Mid-Apr to Oct lunch only
A legendary restaurant and bathing establishment at the foot of the Faraglioni rocks.
Via Palazzo a Mare 11, Capri
+39 (081) 837 6102
paolino@capri.it
Near Marina Grande
Da Luigi ai Faraglioni
Via Faraglioni 5, Capri
+39 (081) 837 0591
Excellent seafood served on a rocky terrace at the base of the Faraglioni.
topShopping

La Piazzetta
Chic shopping in Capri Town's busy, sophisticated main square.

Sandalo Caprese di Attilio
Via Sopramonte 9A, Capri
Sandalmakers

Via Guiseppe Orlandi 75, Capri
Sandalmakers since 1958.

La Galleria dell'Arte
Via Guiseppe Orlandi 107, Capri
Ceramics, sandals
Palazzo dei Congressi, Capri
Dec annually
info@caprihollywood.com

This international film festival is organized by the Capri Tourist Board and Capri in the World Institute. One of the highlights of the film world's winter season, it attracts some of the biggest stars, directors and producers in Hollywood. Events include film premieres, a selection of Italy's greatest classics and talks with key figures on the international film scene.
topBoat Tours
Via Cristoforo Colombo 34, Capri
+39 (331) 608 4109
info@caprirelaxboats.com
Rent a "gozzi" for a tour around the island, visiting caves and swimming in bays that can be reached only by boat.
Private pier at Marina Grande, Capri
+39 (081) 837 7714
Another option for boat excursions around the island, with vessels carrying anywhere from 25 to 150 passengers. Private rentals are also available.
Copyright 2013 MyLittleSwans, LLC. All rights reserved. My Little Swans, the logo and Share a world of experience are registered Trademarks of MyLittleSwans, LLC. Use of this site constitutes acceptance of our Terms of Use and Privacy Policy.