Central Florence

Piazza del Duomo
This piazza is flanked by some of Florence's most famous and beautiful buildings, and is the primary destination for many visitors.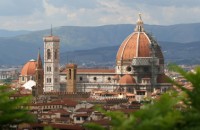 El Duomo
+39 055 230 2855
Cathedral hours:
Mon-Sat 10am-5pm; Thu 10am-3:30pm; Sat 10am-4:45pm; Sun 1:30-4:45pm
Closed Jan 6
Dome hours:
Sun-Fri 8:30am-7pm, Sat 8:30am-5:40pm
Closed Jan 1, many religious holidays

Designed by Brunelleschi, the famous dome of this cathedral dominates the Florentine skyline. It's well worth making the 463-step climb up the dome, which offers insights on the dome's construction as well as fantastic views from the top.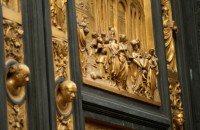 +39 055 230 2885
Mon-Sat 12-7pm; Sun 8:30am-2pm
Closed Jan 1, Easter Sun, Sept 8, Dec 24-25

This octagonal building features a beautifully decorated exterior, rich ceiling mosaics and an intricately patterned floor. The real standouts, however, are Ghiberti's celebrated bronze doors, known as the Gates of Paradise.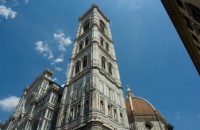 +39 055 230 2855
Daily 8:30am-7:30pm
Closed Jan 1, Easter Sun, Sept 8, Dec 25

Tall and graceful, with an exquisite façade of white, pink and green marble, the bell tower of the Duomo is one of the loveliest in Italy. A climb to the top is rewarded with splendid panoramic views of the city.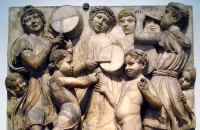 Piazza del Duomo 9, Florence
+39 055 230 2855
Mon-Sat 9am-7:30pm; Sun 9am-1:45pm
Closed Jan 1, Easter Sun, Sept 8, Dec 25

This workshop-museum was founded to maintain the art of the cathedral. It houses art removed from the Duomo, including Michelangelo's Pieta and Donatello's Maddalena.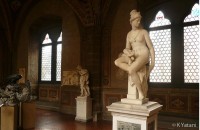 Bargello
Via el Proconsolo 4, Florence
+39 055 238 8606
Bookings: +39 055 294 833
Daily 8:30am-12:30pm
Closed 2nd, 4th Mon and 1st, 3rd, 5th Sun of each month
Closed May 1, Dec 25, Jan 1

The finest sculpture museum in Florence, the Bargello features famous works by Michelangelo, Donatello and their contemporaries.
topRestaurants

Via della Vigna Vecchia, 40/r, Florence
Florence, 50121
+39 55 28 4170
Reservations needed
Seatings at 7:30pm, 9:30pm and 11:30pm

Antica Trattoria Angiolino
Via Guelf 138, Florence
+39 (0)55 475 180
Near Palazzo Vecchio
Il Latini
Via del Palchetti 6/r
Chiuso il Lunedi, Palazzo Rucellai
Florence, 50125
+39 55 21 0916
If you haven't booked ahead and have to wait outside, don't despair, you will be brought a snack to make your wait more pleasurable. The Florentine steak is incomparable.
Via del Porcellana, 9R Florence
Tel: +39 055 284015 Fax: +39 055 7320412
Email: trattoria13gobbi@casatrattoria.com
Daily 12:30-3pm, 7:30-11:30pm 
Recommended by our guides as place the locals frequent
topShopping

Il Papiro
Piazza del Duomo 24/r, Florence
+39 055 281 628
Marbled paper goods

Richard Giniori
Via Rondinelli 17/r, Florence
+39 055 210 041

Florence's own porcelain designer.
topSuggested Itinerary
Visit the Baptistry, Duomo, and Campanile di Giotto. If you don't climb the dome or tower, you may want to go on to the Bargello before lunch.
Visit Bargello and/or Leonardo da Vinci Museum
Copyright 2013 MyLittleSwans, LLC. All rights reserved. My Little Swans, the logo and Share a world of experience are registered Trademarks of MyLittleSwans, LLC. Use of this site constitutes acceptance of our Terms of Use and Privacy Policy.