Eastern Florence

Piazza della Signoria
The hub of Florentine civic life, this piazza's central location makes it an ideal gathering place. The square features a number of impressive sculptures, many of them political in theme.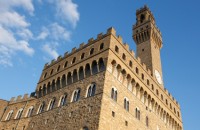 Palazzo Vecchio
Piazza della Signoria, Florence
+39 055 276 8465
Fri-Wed 9am-7pm; Thu 9am-2pm
Extended hours in summer
Closed Jan 1, Easter Sun, May 1, Aug 15, Dec 25

Looming like a medieval fortress over the Piazza della Signoria, the Palazzo Vecchio is still in use as Florence's Town Hall.

The Secret Routes Tour
Mon, Thu, Fri am; Tue, Wed pm; in summer Mon, Fri pm as well

This tour of the Palazzo Vecchio follows secret routes made for Florentine rulers. Visitors can explore hidden stairwells tucked in walls, passageways within ceilings and the private chambers of Duke Cosimo I.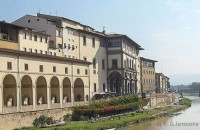 For information and bookings contact Firenze Musei: +39 055 265 4321
The Corridor is a covered walk, more than a 1/2 mile long and lined with 700 paintings, linking the Palazzo Vecchio with Palazzo Pitti via the Uffizi Gallery. At present the Corridor is included in a small guided tour, the Percorso del Principe, which starts from Palazzo Vecchio. Check for availability.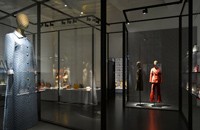 Piazza della Signoria, Florence
+39 055 759 233027
Museum and Icon Store open 10am-8pm; Bookstore, Gift Shop, Caffè and Restaurant open 10am-11pm
Closed Aug 15, Dec 25 and Jan 1
Recently opened as part of the brand's 90th anniversary celebration, this elegant museum honors Gucci's legacy and Florentine roots. The space is broken into thematic rooms: Travel, Logomania, Lifestyle, and Sport.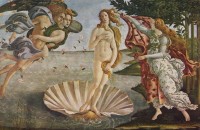 Piazzale degli Uffizi, Florence
Information: +39 055 238 8651
Reservations: +39 055 294 883
Tue-Sun 8:15am-6:50pm
Extended hours in summer
Closed Mon
Closed Jan 1, May 1, Dec 25

One of world's great galleries, the Uffizi features most of the distinguished names in Italian and European art over last 800 years, but is most famous for its collection of Renaissance art. Major works include Botticelli's Primavera and Birth of Venus, Da Vinci's Annuciation and Adoration of the Magi, and Michelangelo's Holy Family.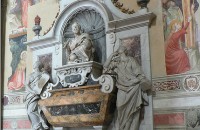 Santa Croce
Piazza Santa Croce, Florence
+39 055 246 6105
Mon-Sat 9:30am-5:30pm; Sun 1pm-5:30pm

Both magnificent and tranquil, this church is important for its art – it contains glorious frescoes by Giotto and other masters – and also for its status as the burial place of Michelangelo, Galileo, Machiavelli and 270 other eminent citizens of Florence.
Piazza dei Giudici 1, Florence
+39 055 265 311
Automated information line: +39 055 293 493
Jun-Sept Mon & Wed-Fri 9:30am-5pm, Tue & Sat 9:30am-1pm;
Oct-May Mon & Wed-Sat 9:30am-5pm, Tue 9:30am-1pm
Closed Sun
Closed Jan 1 & 6, Easter Sun & Mon, Apr 25, May 1, Jun 2 & 24, Aug 15, Nov 1, Dec 8 & 25-26

This small museum is something of a shrine to Galileo, the visionary Renaissance scientist. Exhibits include his telescopes and large-scale reconstructions of his experiments into motion, weight and velocity.
topRestaurants

Alle Murate
Via Ghibellina 52/r, Florence
Tel: +39 055 24 0618
Via S. Spirito, 6/r Florence
+39 055 21 8898
Tue-Sun 12:30-2:30pm, 7:30-10:30pm
Closed Mondays
"A little Florentine Paradise, where the typical dishes of this city will find the taste and ingenuity they once had."

Via Andrea Del Verrocchio 5/r, Florence
+39 055 234 1100
Tue-Sat for lunch and dinner

87 Via Ghibellina, Florence
+39 055 242777
Dinners Thurs-Sat
Closed Sun, Mon, Tues noon, Wed noon
Closed Aug, Dec 25, Jan 1
Near Piazza Santa Croce
Osteria del Caffe Italiano
Via Isola delle Stinche 11/r, Florence
+39 055 289 368
Near Santa Croce.
Has won Italy's Café of the Year award.

Via de' Macci 77, Florence
+39 055 241 226

Borgo Pinti, 12/r, Florence
+39 055 241341
Mon-Sat 1-2:30pm, 7pm until late
Sun 7pm until late
topSuggested Itinerary
Begin at the Piazza della Signoria. Visit the Palazzo Vecchio and the Uffizi Gallery.
Museo di Storia della Scienza
Copyright 2013 MyLittleSwans, LLC. All rights reserved. My Little Swans, the logo and Share a world of experience are registered Trademarks of MyLittleSwans, LLC. Use of this site constitutes acceptance of our Terms of Use and Privacy Policy.