Western Florence
Ponte Vecchio
The iconic bridge is the oldest in Florence, and such is its history and charm that it was the only bridge the Germans didn't destroy in World War II. Shops selling new and antique jewelry line the bridge, which is particularly stunning at sunset.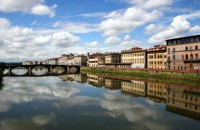 Ponte Santa Trinita
Michelangelo is credited with the design of this bridge, considered Florence's finest. It offers lovely views of the city and the Ponte Vecchio.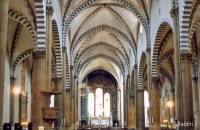 Piazza di Santa Maria Novella, Florence
Church: +39 055 215 918
Mon-Thu, Sat 9:30am-5pm; Fri, Sun 1-5pm
Closed during services
Museum: +39 055 282 187
Mon-Thu, Sat, Sun 9am-5pm
Closed Fri

The Gothic church features an intricate marble façade. Within are some of Florence's most important works of art, including Masaccio's Trinita, and famous frescoes on the walls of the Spanish, Tornabuoni, and Filippo Strozzi Chapels.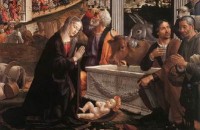 Santa Trinita
Piazza di Santa Trinita, Florence
+39 055 216 912
Mon-Sat 8am-12pm, 4-6pm; Sun 4-6pm only

Santa Trinita is best known for Ghiralandaio's altarpiece The Adoration of the Shepherds and his frescoes depicting the life of St. Francis.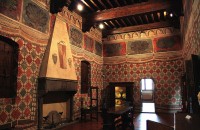 Palazzo Davanzati
Via Porta Rossa 13, Florence
+39 055 238 861
Daily 8:30am-1:50pm
Closed 1st, 3rd, 5th Mon and 2nd, 4th Sun of each month
Closed Jan 1, May 1, Dec 25

The beautiful interiors and furniture of this palazzo capture the look and spirit of a typical 14th century Florentine home. Recently closed due to structural damage. Call or e-mail to see if it has reopened.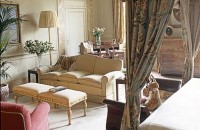 Palazzo Capponi
Lungarno Giucciardini 1, Florence
Tel: +39 055 2122 45
bookings@lungarnohotels.com

This is Ferragamo's little known gem, a two-suite, fully staffed apartment on the first floor of a beautiful palace owned by the family.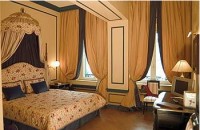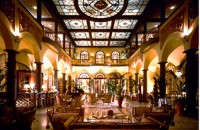 Piazza Ognissanti 1, Florence
Tel: +39 055 27 161 Fax: +39 055 217 400
From US: 1-800-325-3589
GrandFlorence@LuxuryCollection.com

This converted 18th century palace is a landmark of history and tradition.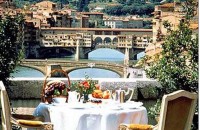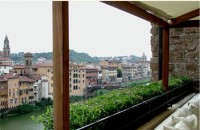 Vicolo dell'Oro 6r, Florence
Tel: +39 055 27 262 Fax: +39 055-283 139
Reservations: +39 055 2726 4000
continentale@lungarnohotels.com
Reservations: bookings@lungarnohotels.com

The newest of four Ferragamo properties in Florence, this hotel near the Ponte Vecchio opened in 2003. Contemporary decor, rooftop terrace. For A Room with a View experience, book a fifth-floor river-view room.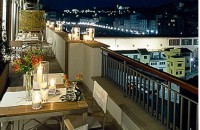 topRestaurants
Lungarno A. Vespucci 22/r, Florence
+39 055 239 6700
A favorite of visiting Americans.  Don't forget to order a bellini!
topShopping
The main high-end shopping area encompasses Lungarno Corsini, Via de Tornabuoni, and Via della Vigna Nuova. Our favorite shops include:

Pratesi
Lungarno Corsini 32/34r - 38/40r, Florence
+39 055 289 488
Linens

Via de Tornabuoni 89/91, Florence 50123
+39 055 288 530
Jewelry

Emilio Pucci
Via de Tornabuoni 20-22/r, Florence 50123
+39 055 265 8087

Hermes
Piazza degli Antinori, 6/r, Florence 50123
+39 055 238 1004

Via della Scala 16/r, Florence

First opened in 1612, this pharmacy still produces perfumes using ancient formulas. Don't miss it.

Via De' Fossi
Antique shopping
topSuggested Itinerary
Visit Santa Maria Novella, its square and famous pharmacy for perfume.
Shopping and a stroll to Ponte Vecchio
Copyright 2013 MyLittleSwans, LLC. All rights reserved. My Little Swans, the logo and Share a world of experience are registered Trademarks of MyLittleSwans, LLC. Use of this site constitutes acceptance of our Terms of Use and Privacy Policy.