Central Rome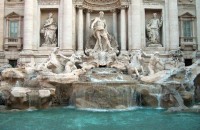 Trevi Fountain
Piazza di Trevi, Rome
Legend has it, a visitor who throws a coin into the Fontana di Trevi is guaranteed to return to Rome. True or not, whimsical statues of Neptune and frocking sea creatures make this grand fountain worth seeing.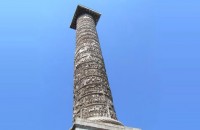 Column of Marcus Aurelius
Piazza Colonna, Rome
A monument erected after the death of Marcus Aurelius in AD 180 to commemorate his triumphs over barbarian tribes.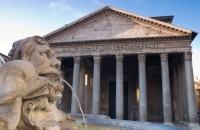 Piazza della Rotonda, Rome
+39 (06) 6830 0230
Mon-Sat 8:30am-7:30pm; Sun 9am-6pm
Public holidays 9am-1pm
Closed to visitors during Mass on Sun at 10:30am
Closed Jan 1, May 1, Dec 25

Rebuilt by Hadrian around AD 120, Rome's best-preserved ancient temple is a marvel of Roman engineering. The circular opening, or ocululs, in the center of the dome is a symbolic link between earth and heaven. Try to visit the Pantheon during a rain storm to witness rain pouring down in a perfect circle.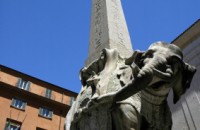 Minerva Obelisk
Piazza della Minerva
Bernini designed Rome's most charming monument, mounting an Egyptian obelisk on top of a marble elephant. It's meaning – only a robust intelligence can uphold solid wisdom.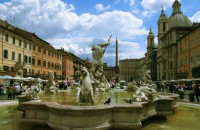 This captivating piazza owes its oval shape to the grandstand of an ancient stadium. Today, its fountains and palazzos are rich in Baroque splendor. Lined with cafes and bustling with street entertainers, it's a lovely place to soak up the atmosphere of Rome.
topMarkets

Piazza Campo dei Fiori
Each morning, vendors fill this square with stalls selling seafood, cheese, produce, and the flowers that give the square its name. Surrounding streets are lined with tiny shops. The central sad statue is Giordano Bruno, burnt at the stake for heresy in 1600 by the Inquisition. There's no market on Sundays.
topRestaurants

Fortunato Al Pantheon
traditional Roman, seafood
Via del Pantheon 55, Rome
+39 (06) 679 2788
Mon-Sat 12-3pm, 7-11:30pm
Closed Sun
Closed Aug 15-30
Via dei Soldati 25c, Rome
+39 (06) 68301192
Mon-Sat 8pm-1am
Closed Sun
Reservations required
Reservations: info@hdo.it
In a 16th century palace near Piazza Navona. Renowned chef Gualtiero Marchesi.

Via del Governo Vecchio 114, Rome
Near Piazza Navona and the Pantheon
+39 (06) 686 1617
Daily 6:30pm-1am
Closed Aug 12-31
Reservations not accepted
dessert
Piazza Navona 28-32, Rome
+39 (06) 687 9148
Sun-Tues Thu-Fri 10am-midnight; Sat 10am-3am
Closed Wed
Closed Jan
Specialty is tartufo, a rich, creamy ice cream drenched in chocolate, cherries, and whipped cream. You may want to order to-go as sitting at a table will double the price.

fish
Via della Rosetta 8, Rome
At Piazza della Maddalena
+39 (06) 686 1002, +39 (06) 68 30 8841
Mon-Sat for lunch and dinner
Closed Aug
Reservations required
Reservations: booking@larosetta.com
Dress code: casual elegant, no shorts

pasta, traditional Italian
Piazza della Maddalena 4, Rome
+39 (06) 683 3633, +39 (06) 689 3073
Wed-Mon 12:30-3pm, 7:30-11pm
Closed all day Tues, closed Wed for lunch
Closed two weeks in Aug and three weeks in Jan
Reservations recommended
Reservations: info@clementeallamaddalena.it
Inside a 16th century building

international, Roman
Vicolo dei Soldati 31, Rome
+39 (06) 686 9432
Tues-Sat 8-11pm
Reservations required
Reservations: info@ilconviviotroiani.com
Couples night out. Not suitable for kids. Michelin star.
topShopping

Berte
Piazza Navona 107-111, Rome
+39 (06) 687 5011
Kids will love this toy shop!

Il Collezionista
Via dei Coronari 198, Rome
At Piazza Navona
+39 (06) 689 3223
Miniature lead soldiers and cars
topSuggested Itinerary
As the main sights are some distance apart, we used our driver/guide wisely, parking close to each attraction and exploring the surrounding neighborhood on foot before moving on.
Take in the market at Campo dei Fiori, then on to Piazza Navona to shop, explore, take a gelato break and enjoy the local color.
Enjoy lunch at one of many cafés in Piazza Navona or try Pizzeria Baffetto or Fortunato al Pantheon near the Pantheon.
Take in the Pantheon, the Minerva Obelisk, then onto the Column of Marcus Aurelius, and finishing up with the Trevi Fountain.
Try La Rosetta or Gusto (near Hotel de Russie).
Copyright 2013 MyLittleSwans, LLC. All rights reserved. My Little Swans, the logo and Share a world of experience are registered Trademarks of MyLittleSwans, LLC. Use of this site constitutes acceptance of our Terms of Use and Privacy Policy.