Vatican City
topMain Sights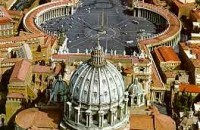 Information: +39 (06) 6988 1662
Vatican Museums and Sistine Chapel: +39 (06) 6988 3333, +39 (06) 6988 4947
St. Peter's Basilica: +39 (06) 6988 4676
Tomb Visits: +39 (06) 6988 5318
Papal Audiences: +39 (06) 066 982

Vatican City is very popular, so if you are visiting on your on or with a guide, plan to go early to miss some of the crowds. We even had a junior guide wait in line while our main tour guide walked us around the grounds. He showed my son pictures of the Sistine Chapel's ceiling, describing the scenes and sharing stories. (No talking allowed once you are in the chapel). Fabulous!
Entrance to all parts of the Vatican requires proper attire (no shorts, short skirts, bare upper arms or shoulders).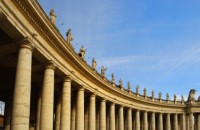 Piazza San Pietro
The great sculptor Bernini was commissioned to design this harmonious square, flanked by colonnades four deep.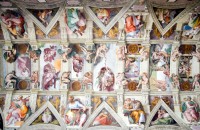 Vatican Galleries, Museums and the Sistine Chapel
Viale Vaticano at Piazza Risorgimento, Vatican City
+39 (06) 6988 3333, +39 (06) 6988 4947
Mon-Sat 8:30am-6pm (last entrance 4 pm)
Last Sun of each month tickets dispensed between 8:45am-12:30pm.
The galleries and museums are closed every Sun, except for the last Sun of each month, unless it falls at Easter, on Jun 29 or Dec 25, 26.
Closed Jan 1, 6; Feb 11; Mar 19; Mar 23-24 (Easter and Easter Monday); May 1 (Ascension Thursday), 17 (Corpus Christi Day); Jun 7, 29; Aug 15-16; Nov 1; Dec 8, 25-26.

The Vatican Museums include 10 collections (from Egyptian and classical masterpieces to modern works), plus the world-famous Sistine Chapel and the papal apartments, including a suite of rooms decorated by Raphael.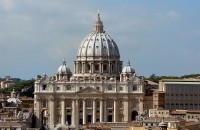 St Peter's Basilica
Piazza San Pietro, Vatican City
+39 (06) 6988 4676
Daily Apr-Sep 7am-7pm; Oct-Mar 7am-6 pm
Dome 8am to sunset

The vast basilica built over the tomb of St. Peter stretches over 200 yards in length. Perfectly proportioned and topped by a magnificent cupola, it combines the efforts of many of the Renaissance's greatest artists and architects (including Michelangelo, whose Pieta is one of the basilica's main attractions). Expect a line in the summer, but worth the wait.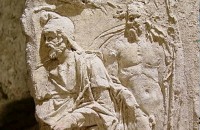 Excavations Office
Fabbrica di San Pietro, Vatican City
+39 (06) 6988 5318
Bookings: scavi@fsp.va or fax +39 (06) 6987 3017

This pagan and Christian burial ground underneath the basilica dates back to the 2nd century A.D. It is only available by guided tour, which must be booked directly by visitors themselves (no third-party bookings) at least 2 weeks in advance. Only those who are 15 years of age or older are permitted to visit.
Papal Audiences
Wednesdays, 10:30am
Held most Wednesdays when the pope is in residence, papal audiences are free and open to the public but must be arranged ahead of time. Ask your concierge to obtain tickets.
Private Tours
The best way to see the Vatican Complex without the crowds is to book a private tour. Very expensive, but definitely worth it. Check for availability at the time of your visit.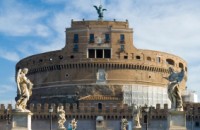 Lungotevere del Castello 50, Rome
+39 (06) 681 9111
Information: +39 (06) 372 4121
Tue-Sun 9am-8pm (last admission at 7pm)

Built as a tomb for Emperor Hadrian in AD 139, this massive structure became a fortress in the 6th century, and was a residence for popes in times of strife for hundreds of years. The castle terrace offers beautiful panoramic views.
topRestaurants

Il Mozzicone
Borgo Pia180, Rome
+39 06 6861500
Closed Sundays
Cesare
Via Crescenzio 15, Rome
+39 06 6861227
Closed Sunday night and Mondays
Near Castel Sant'Angelo
Serves great pasta, pizzas and fish.

Piazzale Aurelio 7, Traversere, Italy
+39 06 5815274
Mon-Sat, 8pm-12am
Closed Sundays, Mid-August
In Traversere district
topItinerary
Morning
Private Tour 3-4 hours
You could easily spend a whole day at the Vatican, but it can get exhausting. Our private tour let us cover a lot of ground in half a day: Vatican Museums and Sistine Chapel, St. Peter's Basilica, Castel Sant'Angelo. I recommend booking a driver and an English-speaking guide who is great with kids – our guide was wonderful. He really brought the Sistine chapel and other great works of art to life.
If you plan to spend the day at the Vatican complex and the Borgo, try Il Borgo Nuovo, Il Mozzicone, or Cesare.
Depending on your interests, you can spend a full day at the Vatican Complex, head back to the hotel to relax by the pool, or head off to the nearby park.
Try Penna D'Oca or Clemente
Copyright 2013 MyLittleSwans, LLC. All rights reserved. My Little Swans, the logo and Share a world of experience are registered Trademarks of MyLittleSwans, LLC. Use of this site constitutes acceptance of our Terms of Use and Privacy Policy.