What To Buy
The artisan tradition is still strong in Venice, making it a wonderful place to buy handmade, one-of-a-kind gifts and souvenirs. Venice's main shopping street is the Mercerie, between Piazza San Marco and the Rialto. An interesting mix of specialty stores can be found on the Frezzeria, west of San Marco. And for Murano glass or Burano lace, the best places to buy the authentic product are the islands where these exquisite crafts are made.
topVenetian Masks
Venetian masks became part of Carnevale in the early 15th century, and grew popular because they allowed the wearers to mingle freely with other social classes. There are several types of carnival masks: Commedia dell'Arte (based on traditional stage characters); Volto, a typical Venetian white mask; Plague Doctor, with a distinctive beaked nose; Columbine, a half-mask often held to the face by a baton; and Fantasy (whatever the mask-maker's imagination can dream up). Masks are sold all over Venice, especially around Carnival time, but the genuine items created in workshops are worth the splurge.
Rio Terra Canal, Dorsoduro 3063, Venice
+39 (041) 528 7344
Mon-Sat 9am-6pm
Closed Sun
Guerrino Lovato is of the oldest and most innovative mask-making ateliers in Venice. His specialty is hand-made papier-mâche masks. You can see some of his masks in the feature film, Eyes Wide Shut.
Calle dei Nomboli, San Polo 2800, Venice
+39 (041) 721 102
Here you will find some of the best masks in Venice. Tragicomica also sells costumes and Commedia dell' Arte figures.
Near San Toma stop.
Showroom
Dorsoduro 3172, Venice
Tel: +39 041 277 6142 Fax: +39 041 520 3229
info@camacana.com

Showroom
Dorsoduro 1169, Venice
Tel: +39 041 522 9749
Maskmaking, Courses and Workshops
Dorsoduro 3215, Venice
With 2 showrooms and and an additional location that offers courses in maskmaking and painting, Ca' Macana is a true find. They revived and refined the ancient art of maskmaking in the 1980s when after two centuries of inactivity, the Venice Carnival was revived. Their work is exquisite and what I liked most about it is that they never make more than 4 masks from any one design.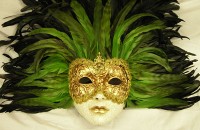 San Tomà, calle Larga 2940/b
Tel. +39 041 717966
Fondamenta dell'Osmarin 4968
Tel. +39 041 5223036
Campo San Rocco 3046/a
Fax: +39 041 5221634
In its 3 locations, you'll find a wide range of masks, from traditional paper-machè masks, made to be worn, to huge creations made to decorate the finest homes and establishments. You can also rent or buy theatrical and èpoque costumes, accessories, three-cornered hats, manteles, and tuxedos for Carnivale.
topMarbled Paper
Though not as widely produced here as in Florence, Venetian marbled paper is just as lovely, and just as individual – each sheet is unique. Boxes, blank books and other items covered in paper make inexpensive, lightweight souvenirs. Paper can also be bought by the sheet.
Ebru
Camp Santo Stefano, San Marco 3471, Venice
+39 (041) 523 8830
Paolo Olbi
Calle della Mandola, San Marco 3653, Venice
+39 (041) 528 5025
Ponte delle Ostreghe, San Marco 2431, Venice
+39 (041) 521 2606
Daily 9am-7:30pm
Il Papiro
Calle della Banda, Castello 5275, Venice
+39 041 522 36 48
topFabrics
Venice has been a celebrated producer of rich, sumptuous silks, velvets and brocades since the 14th century. Some of the finest and most decadent fabrics in the world can be found here, much of it still hand-woven.
Campo Santa Maria del Giglio, San Marco 2520, Venice
+39 (041) 241 0662

Range of silks, brocades and velvets, many still hand-produced on original 18th/19th-century looms.
Calle delle Botteghe, San Marco 3441-3451, Venice
+39 (041) 522 8574

Silks, brocades, velvets.
S. Croce 1320, Venice
+39 (041) 721 566
+39 (041) 520 0987

Looms, warehouse and showroom for silks, brocades, velvets.
ColorCasa
Campo San Polo, San Polo 1989-91, Venice
+39 (041) 523 6071

Silks, brocades, velvets.
topBurano Lace
Needle-made lace originated in Venice, and is considered by many to be the height of lace-making. The Venetian island of Burano rose to fame for its exquisite lace in the 16th century. Today, a lace-making school on the island produces hand-stitched lace using the ancient patterns and techniques.
Fondamenta della Sensa, Cannaregio 3219, Venice
+39 (041) 524 2540

Lace and linens.
Via Galuppi 287, Burano, Venice
+39 (041) 730 009
topMurano Glass
Venetian glass, in its variety of colorful and elaborate forms, is a very popular souvenir, but Murano glass is in a league by itself. The island of Murano became a major glass-making center in 1291, and is still famous for specialties like millefiori (multicolored glass) and sommerso (sunken glass), made using centuries-old techniques. The island workshops are the best place to buy Murano glass, though there are some showrooms in Venice itself.
Galleria Marina Barovier
Salizada San Samuel, San Marco, Venice
+39 (041) 523 6748
Ponte dei Consorzi, Calle Larga San Marco, Venice
+39 041 520 9899
Chandeliers, giftware, hand-painted glassware.
Pagnacco
Mercerie, S Marco 231, Venice

A charming menagerie of glass animals for sale.
F. G. B.
S. Maria del Giglio, San Marco 2514, Venice
Tel: +39 041 523 6556

Tiny cottage selling small glass animals, great for souvenirs.
L'Isola
San Marco 1468, Venice
Tel: +39 041 523 1973

The Venice showroom for Murano glass by Carlo Moretti.
topPerfume
Santa Maria Novella
Salizada San Samuele, San Marco 3149

Famous fragrances and soaps, originally created by Dominican friars in the 16th century.
topApparel
Sestiere San Marco 1296
Tel: +39 041 523 8038

Exquisite, delicate women's shoes.
Palazzo Regina Vittoria
Ramo dei Fuseri, San Marco 1801-1811/m
Tel: +39 041 522 1332

Elegant jeans, sweaters, riding boots.
Copyright 2013 MyLittleSwans, LLC. All rights reserved. My Little Swans, the logo and Share a world of experience are registered Trademarks of MyLittleSwans, LLC. Use of this site constitutes acceptance of our Terms of Use and Privacy Policy.