Dorsoduro
Dorsoduro is one of Venice's most compelling districts, packed with historical buildings, fine churches, picturesque squares and canals, as well as two of the city's finest museums.
topMuseums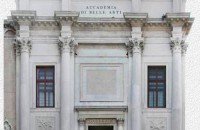 Campo della Carita, Dorsoduro 1050, Venice
+39 041 522 2247
Mon 8:15am-2pm, Tue-Sun 8:15am-7:15pm
Closed Jan 1, May 1, Dec 25

Venice's equivalent to the Uffizi in Florence, the Accademia features a dazzling array of works by Bellini, Georgione, Titian and other Venetian masters. Visit early or late to avoid the crowds. Audio guides and English-guided tours available.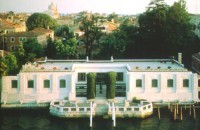 Palazzo Venier dei Leoni, Calle San Cristoforo, Dorsoduro 704, Venice
+39 041 240 5411
Wed-Mon 10am-6pm
Closed Tue
Closed Dec 25

A light-filled one-story palazzo houses this landmark collection of works from avant-garde movements such as Surrealism and Cubism.
Fondamenta Rezzonico, Dorsoduro 3136, Venice
+39 041 241 0100
Wed-Mon 10am-5pm
Closed Tue

Richly furnished and decorated, this museum recreates a Venetian palace as it might have been in the 18th century. Often hosts classical concerts in the evenings.
The former historic customs house on the triangular tip of Punta della Dogana is now home to Venice's newest contemporary art museum. The 38,000-square-foot space exhibits works by the world's most important contemporary artists, including François Pinault's excellent collection.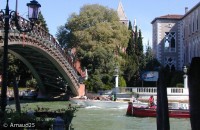 Ponte dell'Accademia
Campo della Carità, Dorsoduro, Venice

This beautiful bridge across the Grand Canal offers views of distant palaces and the church of Santa Maria della Salute.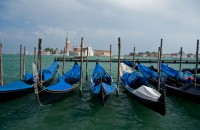 Squero di San Trovaso
Rio San Trovaso, Dorsoduro, Venice

One of the most famous and easy-to-see gondola boatyards in Venice, there is nearly always activity here as gondolas are overhauled and repaired.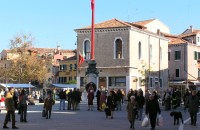 Campo Santa Margherita
Ca' Rezzonico, Dorsoduro, Venice

Dorsoduro's main square, one of the liveliest in Venice, is lined with market stalls, shops, and caf
topRestaurants
Ai Gondolieri
Campo San Vio, Dosorduro, 366, Venice
+39 041 528 6396
Wed-Mon 12-3pm, 7-10pm
Closed Tues
Unique among Venetian restaurants - it serves no fish! Wide range of meat and vegetarian dishes.
Al Bottegon
Fundamente Nani, Dorsoduro 992, Vencie
+39 041 523 0034
Mon-Sat 8am-2:30pm, 4-9:30pm
Closed Sun
Great place for lunch! Order a panini.
Locanda Montin
Fondamenta di Borgo, Dorsoduro 1147, Venice
+39 041 522 7151
Thur-Mon 12-3pm, 7-10pm
Closed Tues and Wed
Closed 2 weeks January and August
Historic restaurant with garden seating during the summer.
Pizzeria Alle Zatterre
Terrra Foscarini, Dorsoduoro 795, Venice
+39 041 520 4224
Wed-Mon 12-3pm, 7-10pm
Closed Tues
Good pizza, great view.
Causin
Campo Santa Margherita, Dorsoduro 2996, Venice
+39 041 522 7151
Daily 6am-9pm
Great coffee house and gelateria.
Nico
+39 041 522 5293
Zattere ai Gesuati, Dorosduro 922, Venice
Closed Thu
Treat yourself to some of the best ice cream in Venice. Famous for its Coppa Gianduiotto, a rich frozen chocolate and hazelnut concoction, but all flavors are equally good.
topShopping
Bac Art Studio
San Vio, Dorsoduro 862, Venice
+39 041 522 8171
Stunning photos and prints of Venice.
Mondonovo
Rio Terra Canal, Dorsoduro 3063, Venice
+39 041 528 7344
Selling high-quality masks, this is a wonderful place for children and adults.
topSuggested Itinerary
Visit the Galleria dell'Accademia or the Collezione Peggy Guggenheim or. Take in the view from the Ponte dell'Accademia.

Lunch at Al Bottegon or Pizzeria Alle Zatterre
Tour the Ca' Rezzonico, Squero di San Trovaso, and/or shop for masks at Mondonovo.
Check to see if there is a concert at Ca' Rezzonico. Wonderful music in a spectacular setting.
Copyright 2013 MyLittleSwans, LLC. All rights reserved. My Little Swans, the logo and Share a world of experience are registered Trademarks of MyLittleSwans, LLC. Use of this site constitutes acceptance of our Terms of Use and Privacy Policy.