San Polo & Santa Croce
The Rialto is the site of Venice's earliest settlement. It became the commercial center of the city by the 11th century. And today is still one of the liveliest districts of Venice.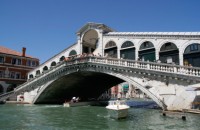 Ponte di Rialto and Mercato di Rialto
The most famous bridge in Venice crosses the Grand Canal between San Marco and San Polo. Markets stretch along both sides of the bridge and across the bridge itself. Come at dawn if you want to see the barges arrive and the stalls go up. Fish market is closed on Mondays.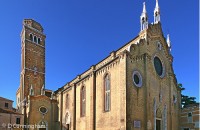 Campo dei Frari, San Polo 3072, Venice
+39 041 272 8618
Associazione Chiese di Venezia (curator of most of Venice's top churches):
+39 041 275 0462
Mon-Sat 9am-6pm, Sun 1-6pm
Closed Sun in July and Aug
Closed Jan 1, Easter, Aug 15, Dec 25

Artistic treasures are everywhere within this Venetian Gothic church, including beautifully inlaid choir stalls, major works by Titian and a delightful Bellini altarpiece.
topMuseums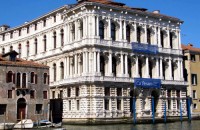 Ca' Pesaro
Canal Grande, Fondamenta Ca' Pesaro, Santa Croce 2070-76, Venice
+39 041 524 0662, +39 041 524 1173
Apr-Oct Tue-Sun 10am-6pm; Nov-Mar Tue-Sun 10am-5pm
Closed Mon
Venice Art Gallery, International Gallery of Modern Art, Gallery of Oriental Art

This eclectic gallery houses collections of 19th and 10th century Italian art, Chinese and Japanese artifacts, and modern works by artists such as Klee, Matisse and Klimt.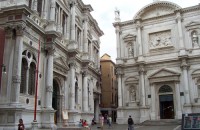 Campo San Rocco, San Polo 3052, Venice
+39 041 523 4864
Daily Apr-Oct 9am-5:30pm; Nov-Mar 10am-4pm

Once an institution for the sick, this building displays a spectacular cycle of paintings by Tintoretto, including his moving "Crucifixion."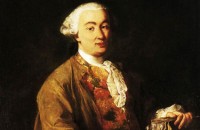 San Polo 2794, Venice
+39 041 275 9325
Apr-Oct 10am-5pm; Nov-Mar 10am-4pm
Closed Wed
Closed Jan 1, May 1 and Dec 25

The newly restored palazzo, also known as Casa di Goldoni, was the birthplace of playwright Carlo Goldoni and features a collection of theatrical memorabilia.
topRestaurants
Alle Oche
Calle del Tintor, San Polo 1552, Venice
+39 041 523 7238
Mon-Sat 9:30am-2:30pm, 5-10pm
Pizzeria
Alle Nono Risorte
Sotoportego de Sira Bettina, Santa Croce 2338, Venice
+39 041 524 1169
Closed Mon
Closed Thu lunch
Great Pizzeria.
La Zucca
Ponte del Megio, Santa Croce 1762, Venice
+39 041 524 1570
Mon-Sat 12-3pm, 6-10pm
Closed Sun
"The Pumpkin" is a friendly, easy-going trattoria whose cuisine centers around vegetables.
Il Refolo
Campo San Giacomo dell'Olio, Santa Croce 1459, Venice
+39 041 524 0016
Closed Mon
Closed Tue lunch
Closed Nov-Mar
Set beside a canal, one of city's best pizzerias. Also serves great salads, meat and fish dishes. Outside tables great for summertime dining.
Trattoria Da Ignazio
Calle die Saoneri, San Plo 2749
+39 041 523 4852
Sun - Fri 12:30-2:30pm, 7:30-10pm
Closed Sat
Reservations recommended.
Wonderful Venetian cuisine. Know for fish and pasta dishes. Ask for courtyard table in summer.
Osteria Da Fiore
Calle del Scaleter, San Polo 2202, Venice
+39 041 721 308
Tue-Sat 11:30-3:30, 7:30-10:30
Closed Mon
Closed 3 weeks in August, Dec 24-Jan 13
Reservations required.
Award-winning Venetian cuisine. Mixed fried fish is legendary. Deserts are sublime.
topShopping
Calle dei Nomboli, San Polo 2800, Venice
+39 041 721 102
info@tragicomica.it
Traditional Venetian masks.
ColorCasa
Campo San Polo, San Polo 1989-91, Venice
+39 041 523 6071
Sumptuous fabrics.
Gilberto Penzo
Calle Seconda dei Saoneri, San Polo 2681, Venice
+39 041 719 372
Creates miniature Venetian boats and gondola kits to take home.
topEntertainment
Arena di Campo San Polo
Campo San Polo, San Polo, Venice
+39 041 524 1320
Late Jul-early Sept
Open-air cinema, with a backdrop of flickering hues across crumbling Venetian buildings.
topSuggested Itinerary
Take a vaporetto to the Rialto Bridge. Enjoy the Rialto markets. After a midmorning caffé break, visit Ca'Pesaro or go shopping for masks at Tragicomica and fabrics at ColorCasa.
Take vaporetto back to San Toma. Visit Scuolo Grande di San Rocco and Santa Maria Gloriosa dei Frari.
Enjoy the open air cinema at Arena di Campo San Polo or take a stroll along the canals.
Copyright 2013 MyLittleSwans, LLC. All rights reserved. My Little Swans, the logo and Share a world of experience are registered Trademarks of MyLittleSwans, LLC. Use of this site constitutes acceptance of our Terms of Use and Privacy Policy.