Castello
Venice's largest district got its name from the 8th century castello or fortress that once stood on the island of San Pietro. Castello was also the industrial heart of the Republic, producing Venice's fleet of warships. Now Castello is a busy commercial center with fine monuments, historic churches, and wonderful museums.
topBridges and Wallkways
Ponte della Paglia
Best location to get a great shot of the Bridge of Sighs.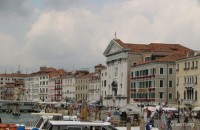 Riva Degli Schiavoni
This broad quayside with its procession of palaces, historic hotels and caffés has great views and is an ideal place for an early morning or evening stroll.
topGardens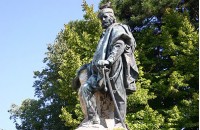 Giardini Pubblici
The gardens were created by Napoleon to provide the city with a green space. Great for picnics, joggers and kids that want to let off steam.
topMuseums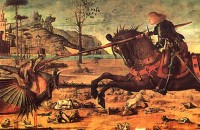 Scuola di San Giorgio degli Schiavoni
Calle dei Furlani, Castello 3259/A, Venice
+39 041 522 8828
Apr-Oct Tue-Sat 9:30am-12:30pm, 3:30-6:30pm, Sun 9:30am-12:30pm;
Nov-Mar Tue-Sat 10am-12:30pm, 3-6pm, Sun 10am-12:30pm

Established in 1451, the Scuola was rebuilt in 1551 and has changed very little since then. Some of Carpaccio's finest paintings are on display here.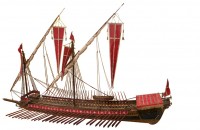 Museo Storico Navale
Campo San Biagio, Castello 2148, Venice
+39 041 520 0276
Mon-Sat 8:45am=1:30pm
Closed Sun

This museum of naval history is a four-story treasure trove of all things nautical, from model boats and naval instruments to uniforms, cannons and torpedoes.
topChurches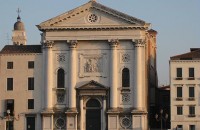 Santa Maria della Visitazione
Riva degli Schiavoni, Castello
+39 041 523 73 95
Jun-Oct Mon-Sat 10am-noon, 3:30-6:30pm; Sun 10am-12pm

Better known as La Pieta or Vivaldi's church. Vivaldi wrote and directed numerous pieces for the Pieta choir. Today the church is popular venue for concerts, mostly showcasing Vivaldi's music. Concerts are held throughout the year usually on Mondays and Thursdays.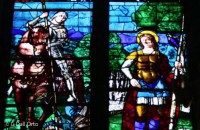 Santi Giovanni e Paolo
Fondamente Nuove, Castello
Daily 9am-12:30pm, 3:30-7pm
Closed on Sundays to visitors due to services

The city's greatest Gothic church. Also known as the Pantheon of Venice as no other church is the resting place of so many doges and heroes.
topRestaurants
Corte Sconta
Calle del Pestrin, Castello 3886, Venice
+39 041 522 7024
Tue-Sat 12:30 - 2pm, 7:15-10pm
Reservations recommended
Closed Sun and Mon
Closed four weeks in Jan and Feb and four weeks in Jul and Aug
Alle Testierre
Calle dei Mondo Nuovo, Castello 5801, Venice
Mon-Sat 12-2:30pm, 7-10:30pm
Closed Sun
Closed end of July- Mid August, Jan 1
Reservations recommended.
Seating only 22, this fine restaurant specializes in seafood.
Osteria Oliva Nera
Calle della Madonna, Castello 3417/18
Fri-Tue 12-2:30pm, 6:30-10pm
Closed Wed, Thur
Traditional dishes with a contemporary twist.
Dal Pampo
Calle Generale Chinotto, Castello 24, Venice
+39 041 520 8419 Fri-Wed 12-2:30pm, 7:30-9pm
A favorite with the locals.
topShopping
Il Papiro
Calle della Banda, Castello 5275, Venice
+39 041 522 36 48
Marbled paper products
Lanterna Magica
Calle della Banda, Castello 5370, Venice
+39 041 528 1902
The city's best toyshop with toys and games for all ages from all over the world.
Papier Mache
Calle Lunga Sta Maria Formosa, Castello 5175
+39 041 522 99 95
Contemporary Masks
topEntertainment
Campiello Querini Stampalia, Castello 5252, Venice
+39 041 271 1411
A diverse selection of artistic events and Saturday classical concerts are held in the opulent surroundings of this 15th century palace.
La Pieta
+39 041 522 64 05
This church has regular performances of music by Vivaldi
topItinerary
Start your day on the Riva degli Schiavoni. Morning is the best time to photograph the Bridge of Sighs before the crowds arrive.

Walk along the waterfront or take a vaporetto to Arsenale and go to the Museo Storico Navale.
Lunch at one of the caffes along the waterfront or pack a picnic lunch for the Giardini Pubblici
Afternoon free for shopping in Castello or San Marco. You can board a vaporetto at Giardini for transport.
Copyright 2013 MyLittleSwans, LLC. All rights reserved. My Little Swans, the logo and Share a world of experience are registered Trademarks of MyLittleSwans, LLC. Use of this site constitutes acceptance of our Terms of Use and Privacy Policy.