Luggage
Luggage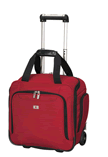 Leave your Louis Vuitton at home. You need to travel light. We use Eagle Creek duffle bags. Large, not extra large (too long for conveyer belts). One for each member of the family, and an extra duffle for specialized gear. All bags need individual tags, so it is easy to know which room they need to be delivered too. And we will often pack bags within bags, (light-weight nylon), so if we are going to multiple locations, requiring different clothes, we don't have to unpack what we don't need.
For the plane, I recommend Victorinox Swiss Army carry-on bags. They are legal size, fit under the seat, protect electronics and hold enough to keep each child occupied on a long flight. I also recommend that you pack a change of clothes, prescription drugs and any valuables in the carry-on, just in case you arrive before your luggage does.
Weight Limits
There are strict weight limits at a growing number of International airports. Doesn't matter if you are flying first class. Doesn't matter if you pay extra for the weight. This is not an aviation rule. It's a union rule. Union workers do not have to lift bags over 70lb (32kg).
There are even stricter weight limits in many light aircraft. In Africa and Australia, the limits varied from 15 to 20 kilos per person. (That's 33 to 44 lbs).
If you are checking luggage, confirm weight/size/quantity allotments with your airline to make sure you comply. During holidays or high traffic periods, baggage-handling requirements tend to get more restrictive. One solution is to ship your luggage prior to departure – it's pretty common these days.
I always pack a light-weight duffle bag in case I need to shift weight around. (I also find the extra bag useful for bringing back purchases).
On the Ground
It's important to consider the number of bags you'll be taking with you when confirming transfers. Stretch limos have relatively little luggage space – if you have a large party, you'd be better off with two sedans, or you can have the concierge hire a van to transfer the luggage.
Copyright 2013 MyLittleSwans, LLC. All rights reserved. My Little Swans, the logo and Share a world of experience are registered Trademarks of MyLittleSwans, LLC. Use of this site constitutes acceptance of our Terms of Use and Privacy Policy.