Health and Fitness
Canyon Ranch, Tucson, AZ
There are countless places where you can go for a week of relaxation, massages and healthy food hosted by luxurious properties. But then you arrive home and you are back to the habits that created the need for a vacation. What differentiates an experience at Canyon Ranch is that the effects are lasting and in most cases, transformational.
My first visit to the Ranch, as its return guests affectionately know it, was 6 years ago. I was planning my wedding, stressed beyond belief, and needed a serious recharge. My sister, who is a 15-year veteran of the Ranch, always returned from her annual pilgrimage looking fit and healthy. I was expecting your general run-of-the-mill spa, but was I in for a surprise. My entire life changed during my stay at the Ranch. Here are just a few of my experiences:
I learned how food truly fuels my body and how to cook "clean" with fresh wholesome ingredients.
I tried fitness classes I never dared to try before.
I finally figured out what my Vo2 max (aerobic capacity) was, so I could work out most efficiently.
I picked up a tennis racket for the first time in years and played with a tennis pro while listening to Ray LaMontagne and watching the sun fade.
I hiked in the Desert Mountains and saw the sun rise.
I worked with a top-notch physical therapist that designed exercises for my nagging shoulder injury.
I met with a Psychotherapist who helped me get over an old, angry wound.
I learned to meditate with a private instructor.
My eyes opened to so many new and exciting avenues for health and wellness. I walked in the front door after just 4 days at the Ranch and my now husband said, "What did you do with my stressed-out fiancé?" You are so calm and happy!" I rest my case.
On my latest trip this past November, I decided to take things up a notch and took part in a spirit "sweat" lodge, which is something I would normally scoff at. During the session, I conquered fears and developed a deeper compassion for others. I tried the Ranch's most challenging fitness classes and worked personally with a gyrotonics expert (the latest evolution in core workouts). I met with numerous guests who told me incredible stories of what first brought them to the Ranch and how they might not be around today without it. The guests told me over and over that prioritizing their health and wellness was the greatest gift they could give themselves and their family.
What really impressed me about the Ranch was their integrated approach to health and longevity. We all have something we want to work on. You may find sleep continues to elude you and are looking to alternatives for prescription medications. You may be healthy, fit and eat right, but are looking to take your fitness to the next level. Maybe you feel confused about your spirituality and are looking for guidance. The Ranch provides an idyllic setting to immerse yourself in these programs as well as experiences dedicated to healthy living, stress management, weight loss, personal happiness, spirituality, golf, tennis and cognitive focus, to name just a few.
One of the biggest attractions for busy professionals is the Ranch's Executive Physical. The Cleveland Clinic®-Canyon Ranch Executive Health Program and Enhanced Executive Health Program bring together two of the most respected names in health care to provide an annual physical of extraordinary depth and value. Combining the superb diagnostic and treatment capabilities of one of the nation's finest medical institutions with the preventive wellness approach pioneered by Canyon Ranch, this extensive physical establishes a new model for the delivery of preventive health care. Feedback is almost immediate and action plans are quickly designed with the onsite professionals. High cholesterol? Along with the physician, your personal team may include a dietician and exercise physiologist who will create a healthy lifestyle plan just for you. You can quickly put a plan in place with follow-up calls with your very same team after you return home.
Most people associate Canyon Ranch with healthy eating, fitness, and weekly recharge visits. But if you really want to immerse yourself in a particular area and experience a lasting transformation, you'll want to check out the Life Enhancement Center (LEC).
I spoke with a number of veterans of the Ranch who now plan their visits exclusively with the LEC. They watch for particular topics and book their stay around their interests and needs. Imagine working with a group of motivated, positive people who share your goals. You also have access to the most experienced and talented leaders at the Ranch, with workshops and lectures that are reserved just for LEC guests.
Don't expect a Four Seasons resort with über-luxurious facilities, opulent rooms and fine wines. Canyon Ranch is a comfortable, efficient resort with newly remodeled rooms and heavenly beds, but you won't spend much time in your room. The grounds are lovely and quite spiritual. Alcohol is not served, though it is allowed in your room if you desire to bring some along. The resort is pet friendly and cell phone/electronics use is limited to rooms and select sites around the property.
To get started, review the resort website and call the 800 number to speak with a program advisor. You will first be asked "What are the goals for your visit?" How often are you asked this or have even taken the time to think about this? It can be overwhelming at first, but once your advisor opens the door to all the wonderful resources and experiences available to you, your excitement may surprise you. Your advisor will help you create a personalized program based on their breadth of offerings, facilities and staff. Imagine 4-plus days (most stay 7) to devote to yourself only. Dream big. Put together your wish list of everything you would like to work on, be exposed to and just try. You can't afford not to go.
How to get there: The nearest airport is in Tucson, Arizona. Canyon Ranch is a 30-minute drive from Tucson International Airport – the Ranch provides complimentary transportation to and from the airport. To report last-minute changes on pick-up day, call the bell desk at 520-749-9655 ex 4320.
Canyon Ranch Reservations: 800-742-9000
 Weekdays 5 am-7pm,
 Weekends 7am-4:30pm Mountain Standard Time (Pacific Time during Daylight Savings).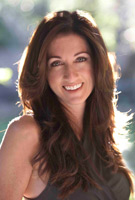 To your health and well being!
Sandra Hahamian
About Sandra Hahamian:
Sandra Hahamian is a Certified PTA Global Personal Trainer with special emphasis in 3-dimensional movement. She is also a certified trainer in PowerPlate vibration technology as well as Cyclops Spin Bikes. She has trained extensively in Pilates, yoga, using body resistance and numerous ballet barre methods. Over the last 4 years, Sandra has experimented and created custom fitness classes for the world's largest companies, celebrities and numerous clients in Silicon Valley. She has also been a lifelong traveler and is a connoisseur of spa and fitness options while on the road.
Sandra's understanding of the human body through her many years of fitness and education surrounding physical therapy have supported the foundation of her fitness work Her classes challenge, define and strengthen the body using balance and resistance in a variety of integrated exercises. Sandra is constantly innovating her programs and is currently focusing on integrated body movements for her clients who spend hours in front of a computer as well as for women over 40 to prevent injury.
Sandra lives in Northern California with her husband and two teenage children.
These materials are for educational and informational use only and should be used in consultation with your doctor and solely at your own risk. See additional information.
Copyright 2013 MyLittleSwans, LLC. All rights reserved. My Little Swans, the logo and Share a world of experience are registered Trademarks of MyLittleSwans, LLC. Use of this site constitutes acceptance of our Terms of Use and Privacy Policy.