Health and Fitness
Miraval, Tucson, AZ
As My Little Swans Wellness Ambassador, I strive to live a healthy, stress-reduced lifestyle, stay fit, and share ideas and experiences with others. Though I am passionate about teaching my fitness classes, I enjoy trying different approaches to wellness and fitness whenever I have the chance. Recently I had the opportunity to spend some time at Miraval in Tucson Arizona.
If you are new to the world of spa resorts, Miraval is a wonderful choice to dip your toe in the water. You don't need to do without much of anything at Miraval, other than chatting on your cell phone in public places. Food is calorie conscience, but the choices abound. And they offer a full wine list as well as cocktails.
If you only have a few days to pamper yourself, try new fitness activities or focus on an issue like stress or sleep, you can gain a lot at Miraval. Nestled against the Santa Catalina Mountains, the architecture takes advantage of every scenic view.
You may have experienced spas in luxury hotels where you choose from a feel-good list of massages, facials and body treatments. Miraval takes the spa experience much deeper. By coordinating treatments, they avoid the 'a la carte' spa approach. Instead your program advisor helps address your individual needs. If stress seems to be a repetitive theme in your life, your advisor may suggest the spa's 'Chi Journey', combined with 'Spirit Flight', 'Shamanic Journey' massage, cranial sacral work, acupuncture and Thai massage.
Miraval beautifully blends nature with fitness too, offering classes such as T'ai Chi on a platform overlooking the mountains, an outdoor Zen boot camp where each station is carefully positioned with the scenery in mind, and guided hikes and mountain biking that take advantage of the spectacular setting.
During my recent visit, my morning started with a group fitness Zen Boot Camp followed by a healthy, calorie-conscious breakfast. The restaurant setting is indoor/outdoor and offers numerous clean eating choices. I then headed to the beautiful spa facility. I arrived early and spent time in the Relaxation room, which overlooks the Santa Catalina Mountain range. I enjoyed teas and a healthy snack before I tried 'Aqua Zen'. This is a truly unusual experience — with closed eyes, you are supported by the therapist as your body is gently manipulated in the warm water of a private pool. It is a "back in the womb experience" and certainly one I will not soon forget.
If you are interested in doing some in-depth personal exploration, you may want to try the 'Quantum Leap' and 'Equine' experiences — both offer a unique approach to looking within and taking chances in a safe environment.
If you have a few extra days, you can take advantage of their Integrative Wellness Program under the direction of Dr. Andrew Weill and his protégée, Dr Jim Nicolai. Integrative medicine in its true sense focuses on the whole person rather than just treating the disease or affliction. Through a mantra of "healthy lifestyle is your therapy" Dr. Nicolai will help to develop a healthcare plan customized for you. The program's focus includes unhealthy lifestyle, weight, sleep, sexual issues, chronic pain, and autoimmune disease. Dr. Nicolai can also work with you to develop alternative programs that can be used in conjunction with such treatments as chemotherapy. If you would like to dive deeper into a particular health related topic, Dr. Weill holds specially focused weeklong seminars several times throughout the year.
Miraval attracts all ages, but on my visit, I noticed mostly couples in their thirties and forties and a number of girlfriend getaways. I instantly wanted to book a getaway for my husband and me. He suffers from migraines and I thought it would be the perfect place to explore alternative healing options as well as re-connect as a couple.
Bottom line: There is good energy at Miraval, and a great balance between a healthy fun-filled adventure and restoration of the soul.
How to get there: The nearest airport is in Tucson, Arizona. Miraval is a 50-minute drive from Tucson International Airport – the resort provides complimentary transportation to and from the airport, though the last shuttle of the day departs for the airport at 2pm each day.
Miraval Reservations:
800-232-3639 phone
520-825-5163 fax
reservations@miravalresorts.com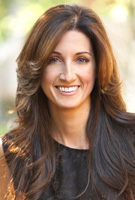 Be well,
Sandra Hahamian
Sandra Hahamian is a Certified PTA Global Personal Trainer with special emphasis in 3-dimensional movement. She is also a certified trainer in PowerPlate vibration technology as well as Cyclops Spin Bikes. She has trained extensively in Pilates, yoga, using body resistance and numerous ballet barre methods. Over the last 4 years, Sandra has experimented and created custom fitness classes for the world's largest companies, celebrities and numerous clients in Silicon Valley. She has also been a lifelong traveler and is a connoisseur of spa and fitness options while on the road.
Sandra's understanding of the human body through her many years of fitness and education surrounding physical therapy have supported the foundation of her fitness work Her classes challenge, define and strengthen the body using balance and resistance in a variety of integrated exercises. Sandra is constantly innovating her programs and is currently focusing on integrated body movements for her clients who spend hours in front of a computer as well as for women over 40 to prevent injury.
Sandra lives in Northern California with her husband and two teenage children.
These materials are for educational and informational use only and should be used in consultation with your doctor and solely at your own risk. See additional information.
Copyright 2013 MyLittleSwans, LLC. All rights reserved. My Little Swans, the logo and Share a world of experience are registered Trademarks of MyLittleSwans, LLC. Use of this site constitutes acceptance of our Terms of Use and Privacy Policy.