Health and Fitness
Coping with High Altitude
Unconventional tips for restful sleep, softer skin, clear eyes and fewer headaches

My husband and I travel to high-altitude locations throughout the year. We love hiking, biking and skiing, so the mountains are the perfect playground for us – but living at sea level in Northern California, I am constantly challenged by the effects of higher elevations. My typical pattern is to hit the ground with a headache, itchy skin, dry eyes and fitful sleep my first two nights. On my latest trip to Aspen for the X-Games, I was hit harder than ever. I turned to Google and my search resulted in the usual tips: drink lots of water, limit or avoid alcohol, salt and caffeine, increase carbohydrates and take it easy the first day. I only experienced slight relief with these remedies, so I decided it was time to talk with the locals and experts about the best way to adjust to life in thin air.
Breathe In
My first stop was the Remede spa at the St Regis Hotel in Aspen. I had noticed their oxygen bar during a previous visit and was told by spa staff that taking in extra oxygen would help my symptoms. Oxygen lounges are popping up all over Colorado to help locals coping with re-entry from sea-level vacations, or visitors trying to adjust.
The 15,000 square foot Remede Spa and fitness facility are accessible for visitors and hotel guests. A day pass to the gym, lounge, hot tubs, plunge pool and oxygen bar are included for hotel guests and for visitors who book a spa appointment. The oxygen room is a beautifully appointed space with chaise lounges, soft blankets, fireplace and calming music. Next to your chaise is personal oxygen device that uses thin nasal tubing for the inhalation of oxygen. Not at all the same experience you might find in a hospital – the light, orange-scented oxygen is truly a zen experience. I took advantage of a 15-minute session and could not believe how much better I felt afterwards. My headache was gone, I had more energy and felt I could really catch my breath. The effect helped me get through the day and adjust to new heights in a much more comfortable manner. If you cannot get to an oxygen bar, you may also try ChlorOxygen, a chlorophyll concentrate which, if taken two weeks before your change in altitude, claims to build red blood cells and increase oxygenation. Many folks I spoke with swear by this supplement.
Relief with Oils
The next challenge was dry skin and eyes. When heading for the mountains, I pack the heaviest face cream I have, such as LaMer, and the thickest Nivea body cream. Many times I feel like my skin is drying out from the inside of my body. I am also constantly dropping Refresh eye drops into my dry eyes. Again, only slight relief. I enlisted the advice of Dr. Harvey Fishman, MD, a dry eye specialist and surgeon based in Palo Alto, CA. "Wind and really low humidity at high elevations create evaporative tear loss. Omega 3 fatty acids such as flax [Dr Fishman recommends a tablespoon of Barlean's Flax Oil] or fish oil [I like Nordic Naturals] taken daily two weeks before your trip will improve the coating of the tear film and natural oils from the edge of your eyelid,'' explained Dr Fishman. Note: Consult your physician for dosage amount and if you are on blood thinners.
As an added benefit, the Omegas will also help your dry skin. I spoke with numerous Aspen locals who found relief with 1,000 mg of Omegas per day.
Deep Sleep I have never slept well the first night at high elevation, so I knew conquering this affect of altitude sickness was a lofty goal. I asked Internal Medicine specialist Dr. Kathy Hallsten of Menlo Park, CA for some advice. "Sleep is important at any altitude and beyond the usual sleep hygiene recommendations – avoiding napping and alcohol (which can cause insomnia) and getting on the local time zone as soon as possible – over-the-counter sedatives like Benadryl or prescription medications like Ambien or Lunesta can help for the first few nights as the body adjusts to altitude," she explained. "There is also a medication, Diamox or acetazolamide, that when taken three times daily (250mg) one to two days before, during, and for two or three days after ascent to high altitude can prevent many of the manifestations of altitude sickness. This is a safe prescription medication that also is used as a mild diuretic." Note: Check with your personal physician to see what medications are right for you.

Another recommendation I received from Alpine residents is to take two ibuprofin before bed the first two days at altitude.

I hope on your next high altitude adventure, you return bright eyed, rested and re-energized.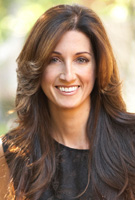 Be well,
Sandra Hahamian
Sandra Hahamian is a Certified PTA Global Personal Trainer with special emphasis in 3-dimensional movement. She is also a certified trainer in PowerPlate vibration technology as well as Cyclops Spin Bikes. She has trained extensively in Pilates, yoga, using body resistance and numerous ballet barre methods. Over the last 4 years, Sandra has experimented and created custom fitness classes for the world's largest companies, celebrities and numerous clients in Silicon Valley. She has also been a lifelong traveler and is a connoisseur of spa and fitness options while on the road.
Sandra's understanding of the human body through her many years of fitness and education surrounding physical therapy have supported the foundation of her fitness work Her classes challenge, define and strengthen the body using balance and resistance in a variety of integrated exercises. Sandra is constantly innovating her programs and is currently focusing on integrated body movements for her clients who spend hours in front of a computer as well as for women over 40 to prevent injury.
Sandra lives in Northern California with her husband and two teenage children.
These materials are for educational and informational use only and should be used in consultation with your doctor and solely at your own risk. See additional information.
Copyright 2013 MyLittleSwans, LLC. All rights reserved. My Little Swans, the logo and Share a world of experience are registered Trademarks of MyLittleSwans, LLC. Use of this site constitutes acceptance of our Terms of Use and Privacy Policy.