Health and Fitness
Post Ranch Inn, Big Sur, CA
Whenever I am asked to relax and envision the most serene place I can dream of, there is no hesitation; it's The Post Ranch Inn located in Big Sur, California.
Every time I drive up to Post Ranch, roll down the windows, look around and breathe in, my blood pressure drops and tension melts away. Something about the ocean air, redwood trees and breathtaking beauty soothes my soul.
Wellness is not only about energizing the body, but also the mind and spirit. Post Ranch provides a spectacular setting for such a wellness retreat and they excel in the art of relaxation. With too many travel awards to mention, Post Ranch is by far one the top hotels in the world and surely makes my "top three" list of wellness destinations. As an adult-only facility with only 40 rooms and no television, you will find glorious peace and quiet.
The focus of Post Ranch is healthy, organic and sustainable. The organic cotton mattresses and bedding, solar-energized facilities, water filtered and bottled from the property's own spring, the cuisine at the award-winning Sierra Mar – all combine to bring the healthiest and best to Post Ranch guests. The rooms, ocean houses and tree houses were designed by famed California architect Mickey Muennig and are nestled into the bluffs and trees, beautifully blending with nature. The serenity is unmatched for a California coastal property.
Big Sur is the place to take advantage of outdoor fitness opportunities. You may hike the trails that surround the Post property or you can grab the keys to a complimentary Lexus convertible and venture to the vast array of spectacular trails nearby. From Julia Pfeiffer Burns State park to numerous trail heads in the Santa Lucia Mountains, the staff at the Inn will help guide you to the trail which best matches your fitness ability.
I have to admit the Inn is a hard place to leave, so many times I prefer to stay onsite for my exercise. The Inn's heated pool has views of the Santa Lucia Mountains and is very quiet and tranquil. It's also large enough to get a great workout if laps are your choice of cardio. The gym is nestled in a grove of redwood trees and offers a selection of free weights, balls, mats, cardio and weight machines.
Beginning Yoga is offered in a yurt numerous times per week. The Inn also offers private yoga, meditation and specialty sessions with the on-site Shaman. The spa is small, but the staff is excellent. In-room massage is a special offering and can be done indoors or out on your private deck, overlooking the Pacific.
Sierra Mar is a Michelin-rated restaurant, but Chef Craig von Foerster and his team will have no problem accommodating your healthy requests. Choosing a breakfast of an egg white omelet with fresh local vegetables and house-baked multigrain bread and a lunch of organic grilled chicken salad will keep you on track with clean eating. Dinner is prix fix and gourmet, but I have always found healthy options.
Nighttime is especially magical. With a crackling fire and your choice of drink on your private deck, you can literally enjoy a star-studded show. I have never seen so many shooting stars as I have from my deck at Post Ranch. With a few deep-cleansing breaths, tuck in for a luxurious sleep and dream of your next day of adventure.
Post Ranch Reservations
Online reservations
Toll Free: (888) 524-4787 (888-5-BIGSUR)
Local: (831) 667-2200

Directions
Post Ranch Inn, located on the Big Sur coast off Highway 1, is 30 miles south of Carmel, 150 miles south of San Francisco and 300 miles north of Los Angeles.
The closest airport is Monterey, about a 45-minute drive. Guests can also fly into San Jose Airport or San Francisco Airport and drive to Post Ranch.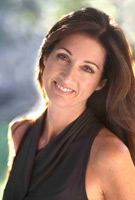 Just breathe
Sandra Hahamian
Sandra Hahamian is a Certified PTA Global Personal Trainer with special emphasis in 3-dimensional movement. She is also a certified trainer in PowerPlate vibration technology as well as Cyclops Spin Bikes. She has trained extensively in Pilates, yoga, using body resistance and numerous ballet barre methods. Over the last 4 years, Sandra has experimented and created custom fitness classes for the world's largest companies, celebrities and numerous clients in Silicon Valley. She has also been a lifelong traveler and is a connoisseur of spa and fitness options while on the road.
Sandra's understanding of the human body through her many years of fitness and education surrounding physical therapy have supported the foundation of her fitness work Her classes challenge, define and strengthen the body using balance and resistance in a variety of integrated exercises. Sandra is constantly innovating her programs and is currently focusing on integrated body movements for her clients who spend hours in front of a computer as well as for women over 40 to prevent injury.
Sandra lives in Northern California with her husband and two teenage children.
These materials are for educational and informational use only and should be used in consultation with your doctor and solely at your own risk. See additional information.
Copyright 2013 MyLittleSwans, LLC. All rights reserved. My Little Swans, the logo and Share a world of experience are registered Trademarks of MyLittleSwans, LLC. Use of this site constitutes acceptance of our Terms of Use and Privacy Policy.