Health and Fitness
Devil's Thumb Ranch
I consider Colorado my second home state. My family spends many weeks per year all over the Rocky Mountains, taking part in numerous outdoor adventures. In the winter, it's classic and skate skiing for me and snowboarding for my husband and teenagers. The summers are spent hiking, biking and exploring. My most recent discovery of Colorado nirvana is Devil's Thumb Ranch, located in Tabernash (about a 90 minute drive from Denver International Airport and 10 minutes from Winter Park).
For years, Devil's Thumb has been a secret getaway spot for Colorado locals, but with its lovely renovation, which won the Ranch the EPA Award for Responsible Development & Historic Preservation, Devil's Thumb will not be a secret for long.
Offering "rustically upscale" accommodations, Devil's Thumb is perfect for a family adventure or a couple's retreat. My husband and I recently returned from a 5-day classic and skate-ski fitness vacation. We stayed in a beautifully appointed, spacious cabin nestled in the woods with access to the ski trails right outside our door. Classic cross country and skate skiing are easy to pick up, and with a little practice you will be moving at a comfortable clip in no time – the lodge has a superb activities center and mercantile with excellent instructors to help you learn the sport. There are also numerous trails for snowshoeing, no matter what your level of experience. Want some downhill adventure? Winter Park is minutes away, offering premier skiing and snowboarding.
As the snow thaws and the mountains turn brilliant green and gold, Devil's Thumb becomes a summer paradise with fly fishing, mountain biking, hiking, horse back riding, rafting and kayaking in and around the 5,000 acres of the Ranch.
The Lodge was designed in the architectural style known as "Parkitecture" in honor of nearby Rocky Mountain National Park. Facilities include cozy single rooms and multi-room suites, a cafe, pub/bistro, fitness center, theater, a six-sided, three-story fireplace constructed from stones gathered from a rockslide near the Ranch, and even a miniature bowling alley with an arcade-style game room.
The Ranch offers two dining options which hold their own quite nicely, serving fresh seafood flown in daily and local, organic meats. There's also a unique 10,000 square foot spa with a wide array of excellent services. Yoga is offered several times per week in a studio with panoramic views of the mountains and Ranch.
We left Devil's Thumb feeling healthier, stronger, more relaxed, and with a reservation for our whole family in August.
Dog friendly cabins are available, no TVs (but DVD players are available upon request), internet access in rooms via cable.
Reservations:
970-726-5632 phone
online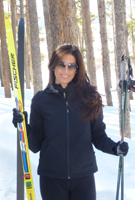 Be well,
Sandra Hahamian
About Sandra Hahamian:
Sandra Hahamian is a Certified PTA Global Personal Trainer with special emphasis in 3-dimensional movement. She is also a certified trainer in PowerPlate vibration technology as well as Cyclops Spin Bikes. She has trained extensively in Pilates, yoga, using body resistance and numerous ballet barre methods. Over the last 4 years, Sandra has experimented and created custom fitness classes for the world's largest companies, celebrities and numerous clients in Silicon Valley. She has also been a lifelong traveler and is a connoisseur of spa and fitness options while on the road.
Sandra's understanding of the human body through her many years of fitness and education surrounding physical therapy have supported the foundation of her fitness work Her classes challenge, define and strengthen the body using balance and resistance in a variety of integrated exercises. Sandra is constantly innovating her programs and is currently focusing on integrated body movements for her clients who spend hours in front of a computer as well as for women over 40 to prevent injury.
Sandra lives in Northern California with her husband and two teenage children.
These materials are for educational and informational use only and should be used in consultation with your doctor and solely at your own risk. See additional information.
Copyright 2013 MyLittleSwans, LLC. All rights reserved. My Little Swans, the logo and Share a world of experience are registered Trademarks of MyLittleSwans, LLC. Use of this site constitutes acceptance of our Terms of Use and Privacy Policy.