Katrina's Editorials
The Allure of Islands
There's something special about an island holiday. Islands are by their nature separate and self-contained – they feel like their own country, even if they are part of a nation. Getting there often takes an extra effort, but the reward is a blissful disconnect from the rest of the world – the more remote an island, the more protected it is from development and outside influences. Wilderness remains unspoiled, unique cultures and species evolve and thrive, and visitors enjoy a privacy and intimacy you won't find on the mainland. Islands have their own sense of time, which draws you into its rhythms and allows you to truly relax.

I have a natural affinity for islands – I grew up on the world's largest island (Australia), and my mother came from a small island (Tasmania). My family's trips over the years have included islands as often as not. In fact, the first international trip Terry and I went on with our infant daughter was to Fiji for the Christmas holiday. With its calm waters and full-service resorts, it was perfect for a couple with a baby. Since then, our family has visited Tahiti, Bora Bora, New Zealand, the Seychelles, the Greek Islands, the British Virgin Islands, Capri, Lord Howe Island, and Kangaroo Island off the southern coast of Australia.

Although an island holiday typically brings to mind white sand beaches and waving palm trees, islands offer an infinite variety of experiences, from wildlife safaris to rugged outdoor adventures. Most islands fit under more than one category – for example, a tropical island surrounded by reefs will usually have safe swimming beaches as well as fantastic snorkeling and diving. And an island can be perfect for a family trip or a romantic getaway, depending on the accommodations.

Here is a list of my favorite islands (and some I hope to visit soon), broken out by region:

South Pacific

Tahiti, Fiji, and Bora Bora: These gorgeous islands are ideal for families – the reefs provide calm, safe water, and many resorts offer kid's clubs and nannies. They're also fairly easy to get to.

Australia

Lizard Island:
The Great Barrier Reef abounds with tiny islands, stunning beaches, and luxurious resorts, and offers phenomenal scuba diving and snorkeling. My favorite among many exceptional places is Lizard Island, Australia's northernmost island resort – it's also a national park, to give you some idea of how pristine it is. Terry and I came here before we had kids (they do not cater to children under 12). It's very private, a favorite of British royalty, and remote enough so daytrippers can't get here. All of the 40 villas have ocean views – you can snorkel right off the white sand beaches. Cod Hole is a famous dive spot, and the nearby ribbon reefs offer some of the world's best game fishing.

Be aware that the Great Barrier Reef is a seasonal destination, at its best Jun-Aug. The wet season is Nov-Mar, when rain, cyclones and stinging jellyfish can put a damper on your trip.




Lord Howe Island:
When we were in Australia for Christmas two years ago, it was the rainy season in the Great Barrier Reef, so we chose this island instead. Off the coast of New South Wales, a 2-hour flight from Sydney, this UNESCO-listed wildlife sanctuary is home to rare birds and a huge variety of sea life. Only 400 guests at a time are allowed on the island to preserve its habitats. Temperatures here are warm and pleasant year round – we snorkeled in protected lagoons, took nature walks, and one day the boys went catch-and-release fishing for sharks. If you want something more strenuous, there's good hiking here, too, including Mt. Gower, rated as one of the world's best day walks.




Kangaroo Island:
We visited this island on the same trip, but it was a very different experience. Located off the coast of South Australia, it has a steep, rugged shoreline, and its waters are generally too rough for swimming. The landscape is spectacular, though, with unusual rock formations and dramatic waves. The island is fairly large (96x34 miles) and has a few settlements, but it's still very pristine – a third of the island is parkland. Kangas, koalas and other bush creatures live in the interior, while colonies of penguins and seals congregate on the shores. Kangaroo Island is also known for its gastronomy, featuring regional seafood, wines, dairy products and Ligurian honey.




New Zealand:
Talk about diversity of experiences. These two islands offer just about every outdoor adventure you can imagine – kayaking, trekking, glacier hikes, sailing, fishing, fjord cruises, subterranean rivers, skiing, rafting, you name it. You'll also find breathtaking scenery, unique flora and fauna, Maori culture, world-class wineries, and some of the finest luxury accommodations anywhere. There's plenty of mild adventure for the kids, as well as sheep farms, mudpots and geysers, dolphins, penguins, and Lord of the Rings film sites.

On our New Zealand holiday, we took a helicopter tour of Auckland and went fishing and bungee jumping at Lake Taupo, New Zealand's largest lake. In the beautiful, subtropical Bay Islands, which are renowned for sailing, we rented the famous Eagle's Nest property in the town of Russell (you land in the backyard with a helicopter!). And that was just the North Island! The South Island features awe-inspiring fjords, "Great Walks" like the famed Milford Track, and the stunning landscapes of Franz Joseph glacier and Mt. Cook, just for starters.




Indonesia

Flores: I'm dying to go to this island, known for its abundance of flowers, interesting Portuguese-inspired cuisine, and unique culture that blends Catholicism with indigenous beliefs. And of course, we'll have to stop at nearby Komodo Island to see the famous Komodo Dragons.




Sumba: I heard about this remote island paradise from my favorite jeweler, who goes there to surf. Nihiwatu, the island's eco-resort, is the most exclusive and luxurious surfing destination in the world, with one of the most legendary breaks in Indonesia. Whether you're a beginner or advanced surfer, you'll take the sport to a whole new level if you travel with Terry Simms.



South America
Galapagos: This is another place on my must-see list – an extraordinary showcase of wildlife diversity, with species unlike anywhere else on earth. It's very popular, but our South America partner offers private experiences that let you avoid the crowds.




Fernando de Noronha: Our partner highly recommends this unspoiled archipelago 215 miles of the coast of Brazil. It's renowned for its populations of tropical seabirds and dolphins, spectacular beaches, and excellent snorkeling.




Seychelles

North Island: This was one of my all-time favorite island experiences. I went with my husband Terry for a couple's getaway, but I think families would enjoy it too. The entire ¾ square miles of North Island is a wildlife sanctuary, so it's very protected. It's also very exclusive, open only to guests of the beautifully designed eco-lodge. The scenery is stunning, the crystal-clear waters of the Indian Ocean are mesmerizing, and the food is some of the best I've ever had. For privacy, tranquility, and barefoot luxury, it doesn't get much better than this. There are only 11 villas along the beach – the largest one, which we rented, is on the end. Salma Hayek and Francois-Henri Pinault were in it the week before us for their honeymoon. And just a few months ago, Prince William and his new bride Kate were also at North Island for their honeymoon (most likely the same villa!)




Maldives: After my surf lessons in Biarritz this summer, I'll be ready for another surfing adventure, and I have my eye on the Maldives. A remote chain of islets and atolls 250 miles off the tip of India, this is a surfer's paradise, offering perfect, consistent breaks suitable for all levels of ability. Our new surfing partner offers custom surf trips here, including private luxury cruises, seaplane charters and several top-notch resorts. I've mentioned the clarity of the Indian Ocean – the sea around the Maldives has some of the best visibility in the world, making it ideal for snorkeling and scuba as well as surfing.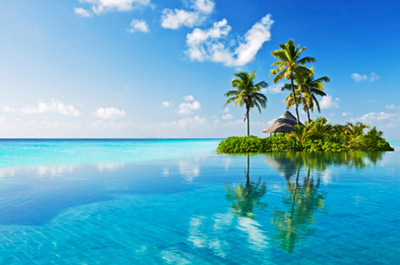 Mediterranean
Capri: Not all islands are created equal – Capri, while very appealing for its scenic beauty, vivid gardens, elegant villas, and famous Blue Grotto, is definitely not isolated and can get very crowded, especially during the summer. The key is to go where the day-trippers can't. I recommend a private boat charter, which allows you to access hidden caves and swimming bays that can only be reached by boat.




Greek Islands: Some of our best family holidays have been on boat trips in Greece. The islands offer a perfect combination of culture, history, sea, sun, and fantastic local cuisine. On our first trip, we cruised the Cyclades Islands in the Aegean Sea; on our second trip, we cruised the Ionian Islands. The Cyclades have more in the way of architectural sites, the Ionian Islands have fascinating cliffs and caves, and both offered azure waters, charming fishing villages, and beautiful beaches. Our captain and crew on both trips were very accommodating and kid-friendly, keeping us thoroughly entertained with all types of water activities.




British Virgin Islands: On family trips especially, variety is important. I think the best way to see the Virgin Islands is on a private yacht, so you can go from sophisticated towns to pristine tropical reefs on a whim. (I also have found service at the resorts to be somewhat unfriendly). This was actually the first boat trip we took as a family, and after that, we were hooked. The kids loved the "Pirates of the Caribbean" theme of the trip and the "Bitter End" on Virgin Gorda, a spot famous in pirate lore, and we all loved the idea of going somewhere new each day. The islands are close together, so it's easy to change up the scenery.




Some tips for island travel:
Remote islands mean an escape from the crowds, but they also often require charter flights, since they aren't serviced by direct flights. Flying in a small plane, with the landscape spread out below you, gives you a whole new perspective on your destination. Be sure to bring Dramamine and salty snacks.

Swimmers, divers and water sports enthusiasts love islands for obvious reasons. My kids have been water babies all their lives – my husband and I were careful to provide skin suits against sunburn, and life jackets and flippers to eliminate other safety issues. When they were very young, I would attach their life jacket to mine with a rope while we were snorkeling so nobody floated away.

I hope this has inspired you to start thinking about your own island getaway. Most of these islands are in tropical zones or the Southern Hemisphere, making them perfect options for the winter break. There's a good chance we'll be heading to an island ourselves this Christmas – I'll keep you posted.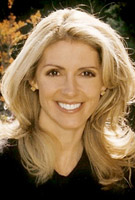 Here's to getting off the grid and creating your own Swiss Family Robinson experience!
Katrina
Copyright 2013 MyLittleSwans, LLC. All rights reserved. My Little Swans, the logo and Share a world of experience are registered Trademarks of MyLittleSwans, LLC. Use of this site constitutes acceptance of our Terms of Use and Privacy Policy.