Travelogs
Australia: Home for the Holidays
My family and I just returned from our holiday trip to Australia. For me, it was a homecoming – I was born in Australia and lived there until I was 18 years old. The trip brought back childhood memories of stargazing and bush hiking, hunting for fossils in the outback, watching sheep-shearing competitions, and body-surfing at the beach. I relived it all through the eyes of my children. It was the kind of adventure where kids are allowed and even encouraged to get dirty, and our days were filled with simple, unconstructed activities: skipping stones, spotting kangas, riding bikes, climbing rocks.
We began our trip at Lord Howe Island, an unspoiled Eden at the southern tip of the Great Barrier Reef. Despite its small size, there was plenty to do, from scenic hikes right from our lovely Capella Lodge to snorkeling in a protected lagoon just off shore. You don't need guides or reservations, just take your bike or golf cart wherever you want to go. One day we went on an excursion out to Ball's Pyramid, the world's tallest volcanic stack, rising from the sea like a mythical castle. We didn't quite make it there – it's about 13 miles offshore, and the water was rough – so we stopped for some catch-and-release shark fishing. Within minutes, both my boys had hooked big sharks! Later, at Ned's Beach, we fed large but friendly sunfish, who come right up to you in the shallow water. With such a variety of activities easily accessible, and the turquoise waters and green hills beckoning, it was a very relaxing place to start off our holiday.
Our next stop was another island – Kangaroo Island, about 10 miles off the coast of South Australia. It's quite a bit larger than Lord Howe, but equally pristine, filled with wildlife and geographic wonders. We stayed at the luxurious, eco-friendly Southern Ocean Lodge, dramatically located along a cliff above the rugged coastline. We took a few guided excursions, most memorably an ATV tour (just challenging enough to be fun), and a wildlife walk with a naturalist. No swimming here – the water is too cold and rough, unless you're a seal, but the waves are spectacular to watch. The island has two large seal colonies (fur seals and sea lions), lots of wild kangas, and a great wildlife park – our guide got us special access so we could go right into the enclosures and touch the koalas and kangas. We visited the Kelly Caves, Admiral's Arch and the oddly shaped Remarkable Rocks, all very worthwhile, but some of the most scenic views were right from our room, at the very end of the lodge's row of suites.
Next, we went to the outback. We stayed at Angorichina Station, a working sheep station in South Australia, about 300 miles north of Adelaide. We flew by private charter to Blinman, where we were met by Ian Fargher, our station host. He and his wife Di treat guests like family – it's a very personal and one-of-a-kind experience. The homestead is a comfortable but civilized place where farm animals roam around like pets, including a gentle old horse that steals bread from the table and Annie, a black merino sheep with attitude, who will charge at your legs but is really just bluffing. Unfortunately, we'd just missed a big rodeo, and the sheep shearing had happened about a month before, but we didn't lack for entertainment. Each day Ian would ask us what we'd like to do – take an aerial tour over the magnificent Flinders Ranges, visit Aboriginal rock art sites, look for emus and kangas in the bush – and then we'd do it. To our boys, Ian was like a long-lost uncle; under his guidance, they sped around on a dirt bike, shot at bottles, and learned how to drive and shift his ancient Jeep, and I was never worried for a moment. Everyone in the outback learns to fly and drive at an early age out of necessity for survival. When not in use, the 4-seater Cessna and 1944 Jeep were parked side by side in the hangar, along with Annie and the horses, escaping from the sun.
After a week of wilderness, it was time for some urban pleasures. We flew to Sydney and checked in to the Four Seasons Hotel, right on the harbor and a 5-minute walk from the Opera House. Because I lived in Sydney years ago, we didn't need a guide, but did have a driver to take us all around, to Watson Bay (had to have fish 'n chips at Doyle's on the Wharf) and Bondi Beach. My daughter and I spent a day strolling Oxford Street in Paddington, where the best local designer shops are. We went to the huge and fascinating Sydney Aquarium, with its massive crocodile, rays and sharks on view. Dinner one evening was at renowned Tetsuya's Restaurant, which was very accommodating to the kids despite the 10-course degustation menu. But the highlight was undoubtedly the New Year's Eve fireworks, the largest and most spectacular display in the world, which we had the good fortune to watch from the balcony of a friend. Next time in Sydney, we will also try to fit in the Boxing Day festivities and the start of the Sydney to Hobart Yacht Race (both on Dec 26), which along with the Melbourne Cup horse races, are the two biggest days of the year in Australia!
Our last stop was Wolgan Valley Resort & Spa, Emirates' brand new eco-resort on 4,000 pristine acres in the sacred Blue Mountains. The resort is about 3 hrs by car from Sydney or 45 mins by helicopter. We dropped in to see my uncle along the way, but other travelers might want to stop en route at Jenolan Caves (which are amazing). I loved being back in the Blue Mountains, where I used to take rainforest hikes as a girl. The resort is beautiful and very private, with villas that feel like small houses, each with their own pool. Rumors say Emirates spent around $125 million on the resort, and it definitely looks the case! Bikes are provided, so you're inspired to hop on and ride around the valley or down to the heritage farm. Guided tours of the farm are available, as well as wildlife safaris and horse riding.
My family and I spent a total of 13 days Down Under – it was a truly amazing trip, through past and present, beach and mountains, bush and coast. The best part for me was sharing my memories with my family, and watching them create their own unique and lasting ones.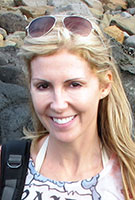 Wishing you equally memorable travels,
Katrina
Copyright 2013 MyLittleSwans, LLC. All rights reserved. My Little Swans, the logo and Share a world of experience are registered Trademarks of MyLittleSwans, LLC. Use of this site constitutes acceptance of our Terms of Use and Privacy Policy.