Travelogs
Aspen: Winter Wonderland
My family and I just returned from a week in Aspen. We've been going over President's Day weekend for the past 10 years – every year we rent a private house for a week, typically ski in and ski out at Two Creeks in Snowmass. These houses are surprisingly hard to come by (last year we rented a condo at the Ritz Highlands) but our Aspen partner found us a really amazing house this year back in Two Creeks.
There's been a lot of building going on in Snowmass, meaning you have lots of options if you don't want or can't get a house. There are more condos on the market than in years past – The Little Nell resort is building private, family-friendly residences at Snowmass Village. And a Viceroy Hotel just opened here last December. It's the first luxury hotel at Snowmass, and it is simply beautiful, with very tasteful interiors that reminded me of Philippe Starck. They have an informal restaurant that's ideal for lunch on a ski day (the hotel has ski-in/ski-out access). Skiing down for lunch instead of eating at the top of the mountain takes a little planning, but it's worth it, especially considering how crowded those other places get. The Viceroy also has a formal restaurant that's open for lunch and dinner. The menu is very interesting, if a bit rich.
The bar is high for food in Aspen. Many of the restaurants have been here for ages, and have a very loyal following. The first thing we always do when we arrive is go for lunch at Boogies, a legendary hamburger joint/jeans shop. Another place we've gone every year for 10 years is Matsuhisa. It has a hip LA vibe (its parent restaurant is located there) which makes it unique in Aspen, and their food is light and delicious (they fly everything in fresh each day). The venerable Syzygy, one of the best restaurants in Aspen, recently expanded but will hopefully see that the old formula was better. Same chef, but hoping they return the menu to the old favorites. The restaurant is still very sophisticated and formal, not really for kids, and becomes a jazz nightclub later in the evenings.
For the first time in years, new restaurants are opening in downtown Aspen – many of the chefs came from other Aspen restaurants. The two our partner recommends are Brexi and Il Mulino Aspen. Brexi is a charming, traditional brasserie with a great beer and wine list. Il Mulino's parent restaurant in New York repeatedly gets top marks from Zagat. Their menu focuses on rustic cuisine from the Abruzzi region of Italy.
Most nights on this visit, we had family dinners cooked at home by our chef, but we went into Aspen for dinner a few nights. We also went to a piano concert at Harris Concert Hall, in a residential part of Aspen. The pianist was Yefim Bronfman – he was simply phenomenal, playing songs of unbelievable complexity from memory. His hands and fingers looked amazingly strong – they must have to be insured! If this is the kind of talent Harris Concert Hall gets during the winter, I can only imagine how great their summer program is.
We spent our days at Snowmass ski resort. You can ski at all four resorts with one pass, but Snowmass is the most kid-friendly, and large enough so you can't get bored. All three of the kids skied/snowboarded all 6 days – Morgan and Emerson on snowboards, and Ali on skis. I always hire a private instructor for the week for each of the kids (Morgan stayed a few days with some friends of ours who live at the top of Buttermilk, and I had her instructor meet her there on those days). Emerson in particular has made amazing progress on his snowboard, and is already up to Morgan's level. He loves the whole image, and really visualizes himself as a snowboarder. They can all do impressive jumps – at night we'd watch the Olympics to get inspired for the next day.
From a skiing perspective, we got very lucky with the snow (they haven't had much this year until recently), but it did mean that we couldn't fly out of Aspen airport. We had to make the two-hour drive to Grand Junction instead. Our partner came to the rescue at the last minute, and found us a driver so we weren't stranded. She is simply the best!
We love Aspen during the winter, but it's wonderful during the summertime too, with a calendar full of world-class cultural events and outdoor activities. If you're thinking of going, make your plans early, because private houses are just as hard to come by in the summer months.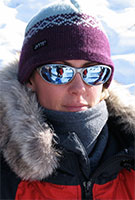 Copyright 2013 MyLittleSwans, LLC. All rights reserved. My Little Swans, the logo and Share a world of experience are registered Trademarks of MyLittleSwans, LLC. Use of this site constitutes acceptance of our Terms of Use and Privacy Policy.