Travelogs
Alaska Adventure
Some trips are about fashion, glamour and art, and some are all about the great outdoors. My recent trip to Alaska with Terry and the boys was definitely in the latter category. Breathtaking scenery, pristine surroundings, big fish and golden Brown Bears – a real family adventure. We booked the trip with our partner Great Alaska. Accommodations were quite rustic, but our guides were very attentive and knowledgeable, and the fishing was incredible! The Kenai Peninsula is said to have the best fishing in the world, from fly fishing on the Cooper and Quartz Creeks to King Salmon fishing on the Kenai and Russian Rivers.
On our first trip to Alaska, in 2003, we flew into Juneau and sailed the Inside Passage. This time, we were quite a bit further north, close to Anchorage. Small seaplanes are the way to get around up here – everyone seems to be a bush pilot, and you can land almost anywhere (rivers, beaches, meadows). Lake Hood in Anchorage is the largest floatplane base in the world, a marina filled with planes instead of boats. We flew from Lake Hood to Great Alaska's main lodge for lunch, and then over snow-covered volcanoes to the Bear Camp in Lake Clark National Park, where we landed right on the shore of Chinitna Bay. The tides are very big here, 15-20 feet, and everyone carries around tide schedules the way we carry iPhones.
Our guide for this portion of the journey was Verm, a "bear whisperer" with a golden beard who looks a bit like a bear himself. The salmon weren't running yet (too early in the summer), so the bears were grazing on the sage grass like fuzzy cows. They were far away when we arrived, and moved closer as the day went on. Once the bears crossed the river towards us, we felt less secure, but Verm made sure we were never in any danger. Because the bears and the tides do pose a threat, it's essential to go with a responsible, qualified, certified guide. We were in excellent hands. Verm was also a photo buff, and once he realized I was into photography, he showed me the best places and had me wait for the best light. It happened to be the longest day of the year, and around midnight, the reflections of the trees and mountains in the glassy water were just spectacular.
The following afternoon, we headed back to Great Alaska's main lodge on the Kenai River, where we stayed in a simple cabin right on the water. We got lucky with the weather (June can be a bit cold and rainy) and every day offered a new activity. One morning we went out in a powerboat to fish for elusive King Salmon, using lines that trail behind the boat. The boys caught fish right away – enormous salmon as big as they were. I got mine eventually, and Terry was rewarded at last, with a salmon so big we almost had to throw it back. Now we have 100 pounds of cured salmon on its way to our refrigerator at home.
Another day, we took a bush plane to remote Bench Lake. The only other way to get here is by a strenuous trek, and it gave us a huge sense of freedom to be the only ones there. We fished for Grayling, a small, beautiful fish with a purple sail fin on its back that only lives in glacial waters. Unlike the passive King Salmon fishing, this was very active – we made cast after cast and brought in fish after fish, which we then released. Our guide was very capable and accommodating, giving just enough instruction to be helpful, but never going overboard. Great Alaska has fishing down!
When the boys weren't out on a fishing expedition, they were fishing for trout in the river in front of our cabin. We didn't try fly fishing on this trip, though we've done it other places. Fly fishing on the Kenai River is very serious – the fisherman stand shoulder to shoulder, casting in unison. We called it "Combat Fishing." Not really the place for kids.
Fishing is the big draw, but there are a lot of other things to see and do as well. One day we took a hike up the Russian River, where the first salmon of the season were beginning to run. We were also scheduled for day of cruising on the Kenai fjords, where we're told the whale-watching is excellent, but since we've already done the Inside Passage, we asked our host, Lawrence, for other options. He suggested taking a helicopter to the Iditarod trail for some dog-sledding. Unfortunately, there was a problem with the chopper, so instead we took a sea plane over the magnificent Harding ice fields and the Beluga River, where you could see Beluga whales swimming.
Lawrence is Great Alaska! He started it 30 years ago, and his guiding hand is everywhere. We had drinks with him every night at happy hour and loved his bold stories of adventure that made you feel fearless. With his stylish beard and ponytail, and passion for the outdoors, he reminded me of a modern Hemingway.
After our Great Alaska trip was complete, it was on to Canada for a 2-day excursion on the famous Rocky Mountaineer railway. We started in Vancouver, which is still buzzing with energy months after the Olympics. We stayed at the Four Seasons and took a look inside the gorgeous new Shangri-La Hotel – it's the first Shangri-La property in North America. The Rocky Mountaineer luxury train, which travels from Vancouver, B. C., to Banff, Alberta, is very well organized, with good service and good dining. If you're into trains, this is a great trip, though I wish they offered more about the history of the rail and the challenges of construction (and competition between the two major rail companies), which must have been formidable. The train itself was 2.5km long, while some of the passing freight trains were over 4km long. Interestingly enough, most of the passing freight trains were full of new cars. Not sure who is buying all of those! If you are a train enthusiast, or just want a great relaxing and major father/son, or grandparent/grand kid bonding experience, I thoroughly recommend this by-gone form of low-stress travel. By the end of the two days, you and your fellow travelers feel very bonded!
On our first day aboard the train, it takes some time to unwind and get use to the routine. We passed through very remote landscapes, seeing the occasional small and quaint church or house left over from the Gold Rush settlers. After an overnight in Kamloops (not much happening there), we headed into the Canadian Rockies, and the scenery got much more dramatic – the domed roof of the GoldLeaf coach offered great views of the steep alps and high glaciers. Our journey ended in Banff, where we stayed at the imposing, castle-like Fairmont Banff Springs. This area has been a major climbing destination since the 1880s– there were photos and statues of famous mountaineers all over the hotel – and Banff gets adventure-seeking tourists year-round.
After 11 days in the wild north, I'm still amazed by its scale, untouched beauty and drama. In these globe-trotting times, sometimes its easy to overlook the natural wonders that are right here in our backyard. Some of my other favorite destinations are also Montreal, Toronto and Quebec City! After I moved from Australia, I lived in Toronto, and went to Montreal and Quebec all the time. The food, the shopping, and the summer and winter ice festivals are a great reason to just go North.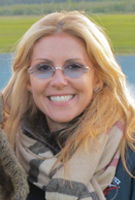 Copyright 2013 MyLittleSwans, LLC. All rights reserved. My Little Swans, the logo and Share a world of experience are registered Trademarks of MyLittleSwans, LLC. Use of this site constitutes acceptance of our Terms of Use and Privacy Policy.