Travelogs
Grazing Our Way through the "New Tuscany"
The scene: a steep, curving street in a fortified hill town built of mellow golden stone. Vineyards cover the sun-drenched slopes and the fertile valley below. After a lunch of local ham and truffle-infused cheese, you pause at a nearby gourmet shop selling an endless variety of tartufi spreads and olive oils, then amble down the lane to a tasting room where you sample an assortment of local wines. Where are you?
If you said Tuscany, you wouldn't be far off – Croatia's wedge-shaped Istrian peninsula, hanging down below Italy and Slovenia like a tooth, has a very Tuscan feel to it. With its medieval villages, undulating hills, and strong focus on gastronomy, some have called it the "New Tuscany," but with lower prices and smaller crowds. The Italian influence can't be denied – Istria has been under Italian control numerous times during its history, including much of the early 20th century. Venetians built many of the hill towns, and even today many residents speak Italian as their first tongue. But it's a mistake to think of Istria as merely an annex of its neighbor. This region has its own unique identity, as distinct from Italy as it is from the rest of Croatia.
I was intrigued by Istria on my first trip to Croatia – the guidebook raved about its bucolic interior and quaint seaside towns. But we decided it was more practical to fly to Zagreb and drive down the Dalmatian Coast. That was a wonderful, memorable trip, and it sparked my continuing love affair with Croatia. Istria kept calling to me, though – an article about Rovinj made me long to visit, but it was a photo of Motovun, a quintessential Istrian hill town, that really captivated me: a view looking down on a medieval church spire and a cluster of red-tiled roofs, with a meandering river valley and trees and vines of burnished gold beyond. So when my husband and I made arrangements to volunteer at a vulture rescue center on the Croatian island of Cres last September, Istria was more than a logical next stop – it was a quest.
Taking the ferry over from Cres, we landed on the eastern shore of Istria and drove around the tip to Rovinj, near the center of the western coast. Known as the "Blue Coast," this spectacular shoreline is a tourist mecca in summer, but Rovinj still manages to be enchanting and genuine, a true fishing village with pastel-colored, Venetian-style buildings lining the edge of its egg-shaped peninsula, and narrow, cobbled streets climbing to the Baroque church atop its hill. The old town is a joy to explore: poking into tiny alleys busy with craft shops, sipping cocktails while sitting on cushions at the harbor's rocky edge, browsing the truffle oils and pepper strings at the outdoor market, and wandering through piazzas and along seafront promenades, looking for the perfect seafood restaurant for dinner.
"Green Istria" was next. Though the center of the peninsula is only a 40-minute drive from the coast, it seems like a different world. The landscape is hilly, agrarian and lush, and the cuisine is focused on pork, seasonal vegetables and grains rather than fish. Istria has a long gastronomic tradition and its own slow-food movement – we grazed our way across the countryside, feasting on regional delicacies like Istrian prsut (prosciutto), hand-rolled pasta, Istrian grappa, white Malvazija and red Teran wines, and of course, white truffles.
White truffles are a very big deal in Istria – the hill town of Buzet calls itself the "City of Truffles," and kicks off truffle season each year by making the world's largest truffle omelet. The neighboring villages of Motovun, Sovinjak and Livade also take part in Truffle Days, with festivals and events stretching from mid-September to November. While in Motovun, we spent a memorable half-hour in the Natura Tartufi gourmet shop, sampling truffle oils, vinegars and spreads of every variety, aided by a charming saleswoman who was helpful and knowledgeable even though she (gasp!) doesn't like truffles. We also tried Istria's famed local brandy, rakija, in flavors as diverse as biska (mistletoe), ljesnjak (hazelnut), and medica (honey).
In keeping with the agrarian theme, we decided to stay at an agroturizam, a working farm that offers accommodations. Agroturizam San Mauro, near the tiny town of Momjan, produces wine, homemade jams, and honey, and is home to two retired truffle pigs named Gigi and Jack. It was welcoming and charming, but rather hard to find. On the way, we passed an elegant winery called Kabola that would have been right at home in the Napa Valley. After an initially fruitless search for the San Mauro, we circled back to the winery to ask directions and (of course) have a taste or two of their robust Teran and nicely aged Malvazija.
The roads in the Istrian interior are marked as "Wine" or "Olive Oil" routes, which would be fun to follow, but the distances are short enough that you don't need a firm plan for getting around. (You do need a car, though.) We took a rambling path the next day, heading down Glagolitic Alley (a country road lined with sculptures honoring the oldest known Slavic alphabet) to the village of Hum. This wonderfully preserved stone hamlet calls itself the "World's Smallest Town," which we could well believe. Here, we had what may have been the world's largest lunch: Istrian ham and truffle cheese (naturally), sausages, pork chops, savory maize and bean soup, and krostule, a sinful pile of fried, sugar-coated dough, all served along with a spectacular view on the terrace of the Humska Konoba.
After a hike in leafy Ucka National Park to work off our lunch, we turned back west and stopped in Groznjan, a 14th-century fortified town now famous as a haven for artists and musicians. With crooked streets lined with over 30 galleries and a series of music events lasting the entire summer, Groznjan makes sure your other senses get satiated along with your nose and palate.
Gazing across the valley from this elevated fortress, we were reminded of the hill towns we'd visited in Tuscany, where in medieval times, the various city-states were always at war with their neighbors. By contrast, the struggle in Istria has been for unity and national identity. We discovered this on our visit to the city of Pazin, in the very center of Istria, home to an impressive castle that is Istria's best-preserved medieval building. The Kastel's exhibits described the Istrian peasants' ill treatment under Habsburg rule, and told us about Croatian bishop Juraj Dobrila, who advocated for Croatian rights and language under Italian rule. The ethnographic museum had a collection of traditional costumes, instruments and tools from local village life, and a special exhibit was focused on Istrian emigrants, who were forced from their homeland by fascism, communism and ethnic cleansing but never forgot their roots.
The landscape may look like Tuscany, and the road signs may be in both Italian and Croatian, but Istria is a land and a culture unto itself, with a flavor all its own.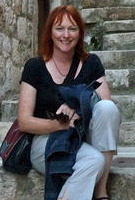 Dovidenja,
Ellen Hall
About Ellen Hall:
Ellen Hall is a writer by profession and an avid world traveler by inclination. Her first trip abroad was just after college, when she spent six weeks backpacking through Europe with her best friend. Since then, she travels whenever she gets the opportunity. Her trips usually focus on nature and history, and have included several return visits to Europe as well as Vietnam, Cambodia, Honduras, Peru, Japan, Costa Rica and Guyana. Some of her most memorable travel experiences include hiking the Inca trail, scuba diving with sharks in Honduras, volunteering at a vulture rescue center in Croatia, and paragliding in Slovenia.
Copyright 2013 MyLittleSwans, LLC. All rights reserved. My Little Swans, the logo and Share a world of experience are registered Trademarks of MyLittleSwans, LLC. Use of this site constitutes acceptance of our Terms of Use and Privacy Policy.