Travelogs
Aspen Summer
As I've mentioned, my family has been going to Aspen for a ski holiday every winter for years. We love it so much, we recently bought a vacation home in Snowmass – but we had never been to Aspen in the summer. So for our July holiday, we thought we would take advantage of our new place and explore all the things this Rocky Mountain paradise has to offer.
The variety of summertime activities really is astonishing – the region offers hundreds of hiking and biking trails, as well as rock climbing, river rafting, fly fishing, kayaking, paragliding, zip-lining, hot air balloon rides and more. Food, wine and music festivals happen throughout the summer, with concerts and events nearly every day. This diversity attracts a well-rounded crowd of fitness-minded but cultured people – older folks from the East Coast and Texas, who come to enjoy the cultural events and escape the humidity, and sophisticated kids and teenagers who are in town to attend the Aspen Music School or a music camp.
Whatever you plan to do – festivals, outdoor activities, or a mix – it's essential to work with a local expert like our partner Lee Bryant. The choices can be overwhelming, and you run the risk of missing out because you weren't aware of an event or activity, or thought you could buy a ticket last minute (which is generally impossible). Though concerts and events are casual, they do book up early.
Local expertise is also key when planning outdoor activities, no matter how fit you might be. Those hundreds of hiking and biking trails aren't well marked, so it's easy to get lost if you aren't familiar with them, and the high elevation can be a factor as well. We hired certified guides for our adventures, so we wouldn't get in over our heads. One day we went on an exhilarating mountain bike ride from the Maroon Bells to Woody Creek, 22 miles downhill – the boys also took the gondola up Snowmass and biked down (wearing padding, thankfully).
Ali is very interested in rock climbing, so we asked Lee to find a good guide for him. They went to Roaring Forks, which Ali loved, and his guide provided all the gear and took pictures as well. It was his first time climbing outdoors, though he has been to Planet Granite several times, which I recommend as a way to get used to climbing before venturing out.
River rafting is also very popular in summer, though quality and availability depends on the previous year's rain and snowfall. This summer, the rivers were fairly low, but still worthwhile. The two main rafting spots are the Arkansas River, which is a full-day excursion, or the Shoshone Rapids on the Colorado River, which is closer and can be done on a half-day trip (though it can get crowded). Terry and the boys chose the Shoshone Rapids – the rapids are great fun but fairly short, so they shot them several times, taking the raft out and walking it back upstream.
Our two-week vacation was focused mostly on outdoor adventures, but we still left ourselves time to relax and check out some of the cultural events. Lee got us tickets to Joshua Bell one night, which was wonderful, and the boys saw Chris Isaak at Belly Up Aspen another night. But it's important not to over-commit yourself, because some of Aspen's chief pleasures involve simply relaxing and enjoying the spectacular surroundings and the charms of the town itself.
Even if you don't buy tickets to anything, there's plenty of public entertainment: concerts every Sunday at 4pm in the Benedict Music Tent, a BBQ and Rodeo every Wednesday evening starting at 6:30, and students from the music school playing in the squares and on the sidewalks. The cafes are bustling during the summer – recently, the city has allowed more outdoor seating, which doubles the capacity of the restaurants and gives the downtown a more festive atmosphere. There are also a couple of great outdoor markets: every day at 7:30am, the Buttermilk Mountain parking lot becomes a renowned fruit stand, and on Saturday mornings, Galena and Hopkins Streets close down for a farmers' market filled with amazing local meat and produce, artisanal cheese, and all kinds of other regional delicacies.
We went back to many of our favorite restaurants (though some are seasonal) and discovered some terrific new ones. Creperie du Village (400 E. Hopkins) is right downtown – it opened last winter but feels like its been there for years. They serve excellent crepes, fondue and raclette both summer and winter. We also liked Above the Salt (305 S. Mill Street), a fun, casual Italian place near the pedestrian mall. And Basalt, a quaint town about a half-hour outside Aspen, has been attracting talented chefs due to its lower rents and is emerging as a dining destination.
Now that we are homeowners here, we plan to come at least three times a year – in the winter to ski, in the summer for a few weeks of R&R, and in September, when the aspen trees turn golden. I'm told the fall is an especially nice time to be here, because the weather is still sunny but brisk, and the crowds have dispersed. Any time of year, Aspen is ideal for families, because the town is so safe and offers such a wide range of outdoor sports and entertainment. As always, we have Lee to thank for planning our schedule, finding us the best guides and personal chef, and pointing us to great new restaurants. If you go, be sure to take advantage of her expertise.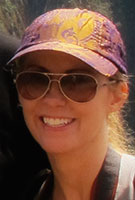 Enjoy your summer
Katrina
Copyright 2013 MyLittleSwans, LLC. All rights reserved. My Little Swans, the logo and Share a world of experience are registered Trademarks of MyLittleSwans, LLC. Use of this site constitutes acceptance of our Terms of Use and Privacy Policy.